I hope that my brother reads this post because he'll smile laugh as he remembers the fireworks that went on in our house.
It was sometime between 1969 and 1972. It was the free-spirited, hippie era and I was living plum in the middle of it. My clothes came from the Salvation Army (before it was cool to call them vintage) and I wore dresses from the 1930's – 1940's. I'd scour resale shops and Goodwill to find my wardrobe.
I WAS COOL
Well, according to ME I was cool….my dad felt very differently. On one SPECIAL occasion (might have been Mother's Day or a birthday) I got dressed up in my usual garb. A wrap dress from thee '30's and a muskrat jacket that had been torn from so  many years of wear. On my feet I wore a pair of what we lovingly called Joan Crawford come f*ck  me shoes.  My father stopped, or should I say he stopped me. He REFUSED to go out with me dressed like that, and I refused to change. It wasn't the first time my dad & I would butt heads (nor was it the last).
In my dad's infinite wisdom, he offered to BUY the clothes off my back and BURN THEM.  I was ready to DEAL (hey, there were plenty more castoffs at Sallie's that I could find). He asked me what I wanted in exchange for  my outfit and I said the ONE THING THAT I'D BEEN WANTING AND COULDN'T AFFORD on my salary (it was an after school job)….FRYE BOOTS.  I had those boots all through college and into my adult life. In retrospect it was a good trade.
I still love Frye Boots and so does January Jones. Don't you just love the way she styles them, from pairing her oxfords with fun socks and ankle jeans, to tucking in her pink skinny jeans into her riding boots.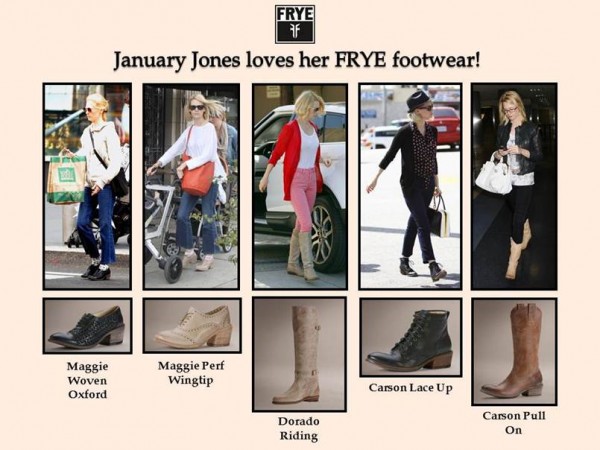 I'm thinking that I need to get myself a new pair of Frye boots, in the memory of my dad. He'd have liked that.