One of my favorite quotes by Coco Chanel is:
Luxury must be comfortable, otherwise it is not luxury.
To me that means that my favorite French Sole ballet flats are luxurious, and those overpriced stiletto's that I can't walk in are not luxury at all (just expensive). It means that a classic dress with a great fit is luxury and the newest trend that has you feeling like you're bandaged up (no matter who the designer or what the price) is not.
A luxurious handbag needs to be made of soft leather
Like the Dylan medium tote with those great gunmetal accents from Linea Pelle. I'm a big fan and have been a big fan of Linea Pelle for a VERY long time, and this bag has been on my "must have" list. With a luxury bag it's about the feel and the versatility.
I made the video so that you could see how luxurious that leather really is. The color of this bag is Malachite and the details (studding and rings) are in a gunmetal (in the video I stated that the color was gunmetal – my bad).
On the INSIDE.
It's got a zippered pocket, as well as two open pockets, perfect for a cell phone, and whatever you need to grab quickly. It's also got a ring to attach your keys to. The lining is a brown and beige zebra print.  The strap (shown crossbody style) can be adjusted to a shorter length and it can be removed completely if you want to carry the bag by it's handles.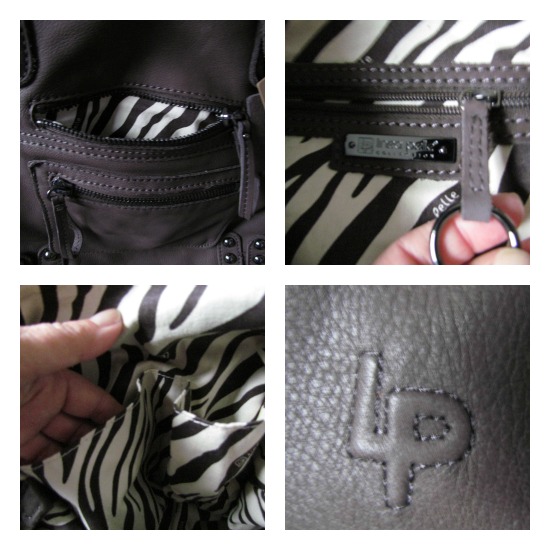 BUT REALLY 
it's ALL about that soft, supple, EXQUISITE garment washed Italian leather. I LOVE this color bag, because it really goes with everything that I own. Of course your core wardrobe colors may be different than mine, and
it's also available in:
black
bordeaux,
violet
toffee
limited edition hunter green
and of course the malachite grey shown above
What you should be doing now
Is PRINTING a photo of that bag, because you want to leave it where HE can see it…so he knows EXACTLY what to get you for the holidays. Or you could just ask for the cash and go buy it for yourself….OR you could ENTER THE GIVEAWAY right HERE and WIN the bag in the video and pictures above.
The only Giveaway REQUIREMENT
Is to sign up for the Linea Pelle list via the Rafflecopter link. Once you do that, you're entered. Of course once you do that, there are plenty of other ways to enter as well for additional entries. Remember, you can TWEET daily for an extra entry (I'll see it in my twitter stream).
Good LUCK
One of you is going to have an AWESOME holiday gift from Linea Pelle and Champagne Living
Winner: Debra K. – Salt Lake City, UT
The bag you see in the pictures is the one that I'm giving away, thanks to Linea Pelle. I received no compensation for this post. All opinions are strictly my own.