Well, maybe I don't belong in the Museum of Modern Art, but with a little help that I found on my smartphone, I now have an eye for color. While I can't create the world's next masterpiece  I can choose the PERFECT colors for my home.
Mission: Update the guest room
You see, the guest room is blue – well, it's almost a robin's egg blue color, and I find it rather uninspiring. So, I've decided that it's time for a little color updating. But, choosing paint colors has always been somewhat of a nightmare for me. Those stacks of paint chips I bring home from Lowe's start looking alike after about 45 minutes.
Goal: Find the PERFECT color
I want to pick up JUST the right color. That wash in the background of my favorite poster over the bed. I'd need a SUITCASE to bring home all of the chips, and even then it's a hit or miss proposition. So…what did I do?

Procedure: My step by step process
I downloaded the

Olympic Paint ColorClix App

to my phone – No more running to the store for a bazillion paint chips, and it's easy to find the PERFECT color. The Olympic Paint ColorClix App has every color you can dream of and they're all at your fingertips.
I snapped a picture of my favorite poster that has the colors that I want to bring out in the room (the one you see in the background on my videos).
ColorClix grabbed the main colors from the portion that I snapped, as well as the complementary colors, designer colors and more
I chose the perfect color from within the artwork. It's JUST what I'm looking for, without ALL OF THE WORK.
I can even SHARE it with Mr. S before heading to Lowe's to buy the paint.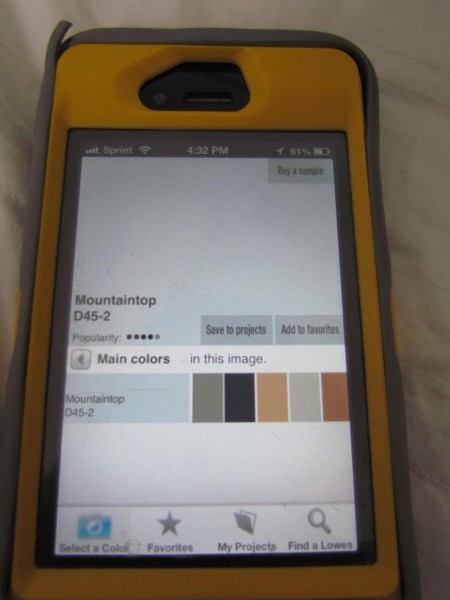 Outcome: I am a color GENIUS
That's right a genius. Well, maybe not in the Boticelli sense, I still can't paint a portrait or a landscape, but I CERTAINLY can paint my room the color that will make it both peaceful AND reflect the artwork on the walls.
How can YOU become a color Genius?
1. Download the Olympic Paint ColorClix App
2. Follow Olympic Paint on Facebook for INSPIRATION
3. Share your beautiful room on Pinterest  – I'd LOVE to see it.
*Sponsored Post