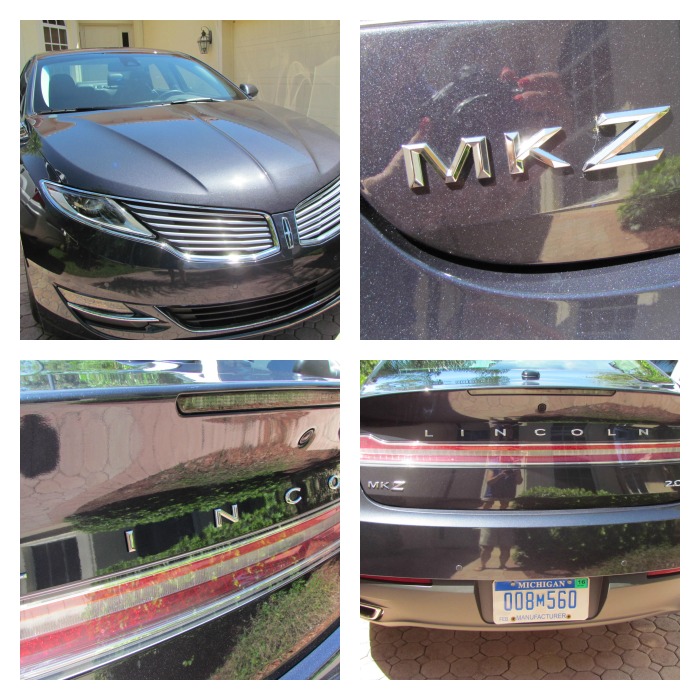 It's always fun when both Champagne Living and The Gin Joint get the opportunity to collaborate, or rather disagree on things. Last week, both Ben and Zippy each took a few days in the all new Lincoln MKZ and drove it around their respective towns.
The Gin Joint
 "You drove up like a parade." – Old White Lincoln by THE GASLIGHT ANTHEM
Believe it or not Lincoln is cool again. 
I know because before I drove the new Lincoln MKZ all I could think of was the old mob guys on Federal Hill with an old white Lincoln.  I always thought of the Lincoln brand to be second to Cadillac, and it took driving it MYSELF to prove me wrong. This car feels like a complete revelation in the luxury sedan world.
I took the MKZ out in the hot Florida sun and stayed cool all day.
First and foremost are the MKZ's looks. 
Inside and out this car is so sleek and luxurious.  The exterior angles are crisp and it doesn't look like any other car on the road.  The interior is just as cool as the exterior and not just because of the AC in the seats (an amazing feature going home from a hot day in the Florida sun). But the interior is far more unique for what is not there…the column and console shift!  This was replaced by a push button system directly next to the giant LCD screen that controls the rest of the car.  Without the shift in the console it opens up the armrest area for all kinds of cool compartments and spaces, although I kept looking for a place to put my right hand when going from reverse to drive.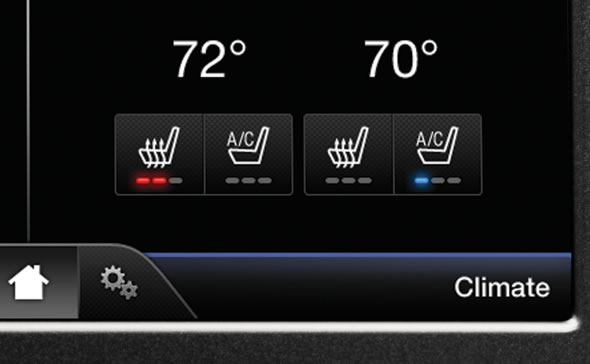 We piled 5 guys in this car for a night on the town, blasting Biggie tracks.  While I was the sober chauffeur (my regular role since beginning a stringent life style change)  it still was an amazing experience.
The is the most comfortable car I have driven in the longest time, and I kept suggesting that we go other places to show off the car or so I could stay behind the wheel (I was so comfortable in this car that I didn't want to stop).
The car drove well enough and had a bit more pickup than you would expect from a luxury car.  The MKZ has a turbocharged four-cylinder engine, coupled to a six-speed automatic with paddle shift controls, and I found my self just enjoying the comfort of the ride so much.  I never felt the need to turn the car loose on the highway to see if I could get a speeding ticket (I could if I tried, I'd like to think). Overall, this is straight up a comfort car.
It's a great ride of complete luxury but at the same time still great to pile in with a bunch of friends in for a stylish night out.  My only issue was getting used to pushing a button to shift.
Champagne Living
"My Pappy said: son you're gonna drive me to drinkin' if you don't stop driving that hot rod Lincoln" – Commander Cody and his Lost Planet Airmen
Ben and I may come from VERY different eras, but there's one thing we seem to see eye to eye on and that's quality, which is the FIRST thing that I look for when sitting behind the wheel.  As a child of a wholesale car dealer (and later on the wife of one), I've owned MANY different brands and models, but I was shocked to look back and realize that this was the very first Lincoln I've ever driven.  I guess that at my age there are still firsts to be had. Since it was my FIRST time, I figured I'd tell you 10 different things about the Lincoln MKZ!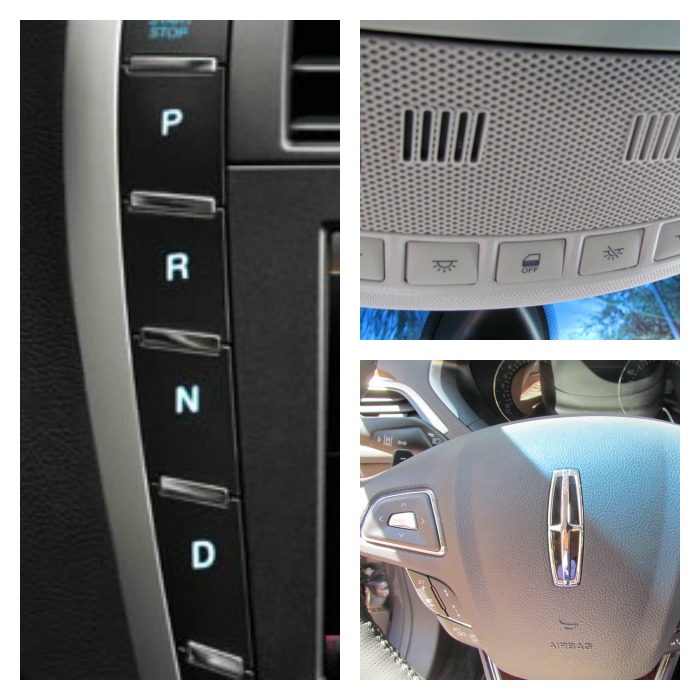 1. I thought that I'd HATE not having a shift in the center console, but LOVED the push button start and shift.
2. The lack of shift in the center,  left MORE ROOM in the center of the car for sprawling and Mr. S (at 6'2″ and football player size) fit comfortably both in the driver and passenger seat.
3. The bottom of the center console is OPEN, allowing a space for a small handbag. My BIGGEST pet peeve in cars is that if I have someone with me (in the passenger seat) that I have to toss my bag in the backseat.
4. The car was delivered during a heatwave in South Florida and those air conditioned seats came in handy. Normally I HATE BLACK interiors in the south because they get so hot….instead I cooled off quickly.
5. The remote start allowed the car to warm up and cool down before I sat down in a pair of shorts (see above). Why can't ALL CARS have this? OMG – I want the car JUST for this function alone.
6. GORGEOUS!! The body style is sleek, sexy, and elegant. I'm all about aesthetics and it's nice to see a car that doesn't look like all the rest. This is true luxury, with a quiet ride and a posh interior. The interior was a FINE leather (my fave), with buttery soft seats. I just had the feeling that a great interior decorator got their hands on a car and gave me everything that I wanted.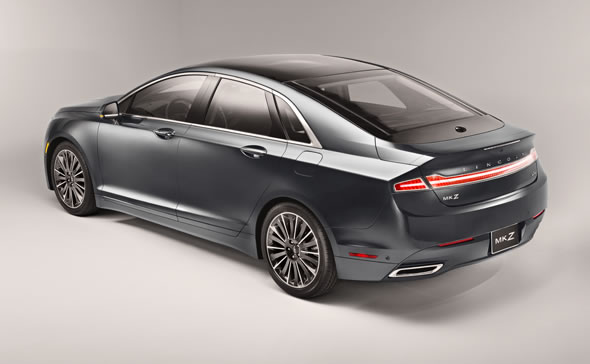 7. It's very safe. I (unfortunately) had the opportunity to try out the safety features when an (insert expletive here) decided to try and pass me going 70 on the WRONG side in the pouring rain, only to spin out RIGHT IN FRONT OF ME on a road undergoing construction. While the guy was an incredible jerk, if it weren't for the ability to stop on a dime, I'm here to write this. Thank you Lincoln!! It's got more safety features than you can imagine including cameras, radar based driving aids (it told me when I was exceeding the speed limit), a Lane Keeping Aid, Lane Keeping Alert and Driver Assist (which told me to pull over for a while when I had to drive over the line due to construction…it thought I was driving poorly).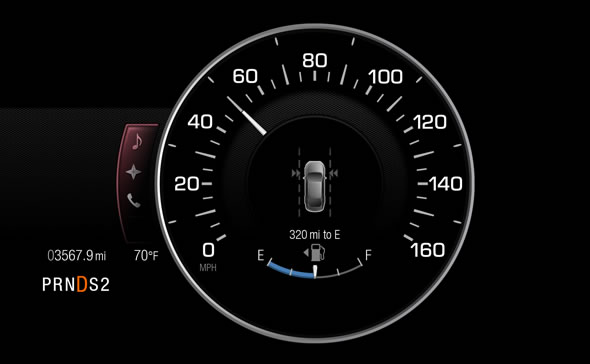 8.  TOYS!!! No, we're not talking Care Bears & Ring Toss, but the SYNC with MyLincoln Touch system that was so easy to use that I found it intuitive. Usually I struggle to learn a new Nav, music, blue tooth….well, you get the point. I wasted NO TIME getting used to the system and use it I did!
9. Eco-Boost. I assumed that I'd have to give up good mileage for a larger car, but with the Eco-Boost system and the 4 cylinder, 6 speed automatic I got GREAT mileage (22 city/33 hwy) PLUS, this car comes in a HYBRID that averages 45mpg (which by the way is better than my SMALL hybrid).
10. People were STARING at this car. Yes, I checked the mirror to make sure my hair wasn't sticking up or my makeup a mess…they weren't looking at me, they were looking at the car.
DISLIKES:  I'm short and the headrests put me in the slightly uncomfortable position of not being able to turn and look out the back window. Thankfully the back-up camera showed everything behind me, but I still would have liked a different headrest.
The Lincoln MKZ starts at under $36,000 (which seems to be a sweet spot in the luxury car market).
Thank you to Lincoln Motor Cars for providing Ben & Zippy a car for the week. All opinions are strictly our own.
For Details and to test drive the Lincoln MKZ yourself go to: