I've been a dog owner all of my life. I've been owned by a dog all of my life. From a young child when our boxer Gino was a part of the family, through years of being an Old English Sheepdog lover and rescue home, to my miniature bull-terrier Clem (Clemenza) who rules the mansion. I've learned lots from my four-legged friends, as a matter of fact some of my best Champagne Living moments came as an AHA! from my furry bestie.
Exercise every day
Luckily, Clem is adamant about helping me getting a little aerobic activity as we walk around the block three times daily. He's also taken up the age-old practice of yoga, since stretching is an important part of staying limber.
Focus on the positive
Clem is blind, yet you'd never know it by the way he comes running to play when I mention the ball. His tail wags on cue (all I have to say is "wag your tail") with fast and furious passion. Always happy to hang with his humans, snuggle on the sofa, or go outside he always seems to have that happy-go-lucky attitude.
You are what you eat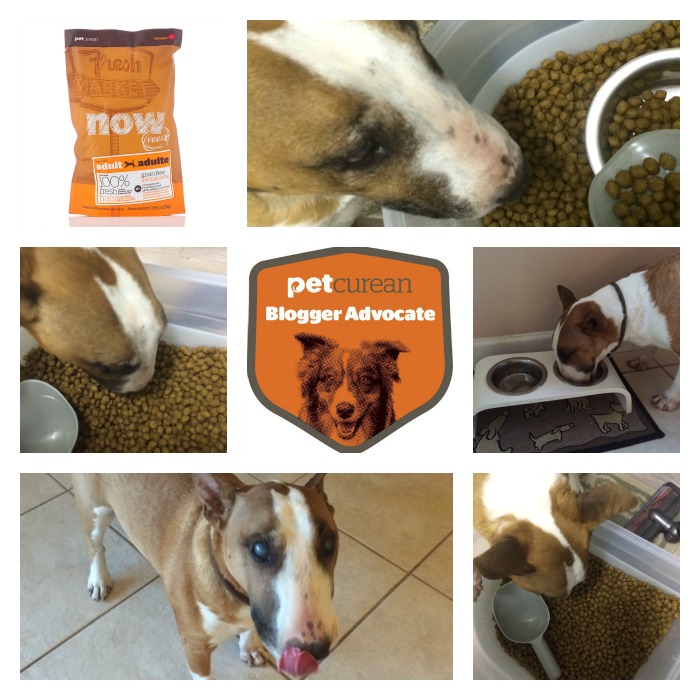 This is a lesson that I need to learn and re-learn, yet Clem does with gusto. He loves eating Petcurean NOW Fresh as much as I love feeding it to him. It is chock full of nutritious ingredients like 100% market-fresh turkey, salmon and duck. 100% fresh Omega 3 and 6 oils from coconuts and canola. It has wholesome berries, fruits and veggies such as peas, spinach, cranberries, pumpkin, blackberries, alfalfa sprouts, kelp, lentils and carrots. With no grains, zero rendered meats, zero by-product meals, or artificial preservatives, it keeps his weight in check, his coat shiny, and his vet visits to a minimum.
Splurge daily
All of this healthy stuff can get pretty boring if you don't allow yourself a little splurge now and then. Clem knows that value of having at least ONE dog treat daily (OK, maybe it's more like two…or three). Whether it's a treat or just doing something out of the ordinary, a little splurge in your day keeps life interesting.
Relax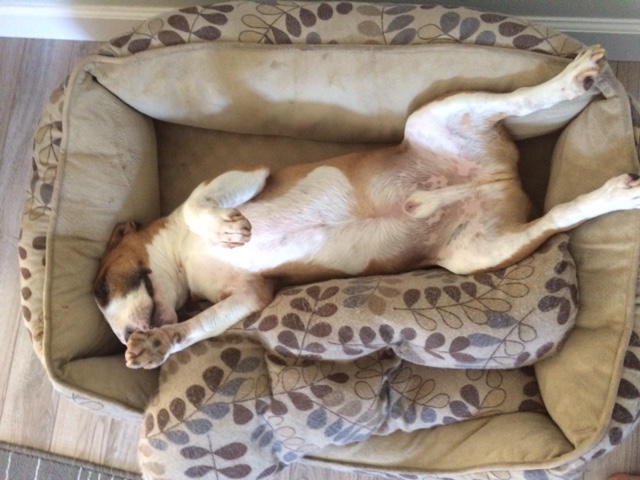 While many of us can't take the time for an afternoon nap like Clem, we can take a few minutes to relax each day. Dogs don't need to LEARN how to relax, they just know it's good for them.
Does your dog have some tips for Clem and I?
Feel free to leave them in the comments. We'd LOVE to know what he/she has taught you.
For more about what I feed Clem to keep him staying healthy visit:
Friend them on Facebook
Follow them on Twitter
Watch pet videos & learn more on You Tube
Fall in love with their PINTEREST page
Ask me about how Clem's doing (you can use the comments below)
Clem received a year's supply of Petcurean dog food and our FAVORITE pet charity the New England Old English Sheepdog Rescue (whom I used to work with) received a generous donation to facilitate our posts. We appreciate both immensely. All opinions are my own and this silly miniature bull-terrier who's curled under my feet.