NOTE: I am a Cross Country Cafe Ambassador. They provide me with coffee each month and I tell you about my favorites.
It's cocktail time (apologies to Sandra Lee) again here on Champagne Living, and when I get the opportunity to mix TWO of my favorite beverages together, it's a win-win-win in the drink department. My roots are as a Starbucks barista, and although I moved my way up the ladder in management for the region there is absolutely NOTHING I loved more than getting "behind the bar," pulling shots and making a great drink.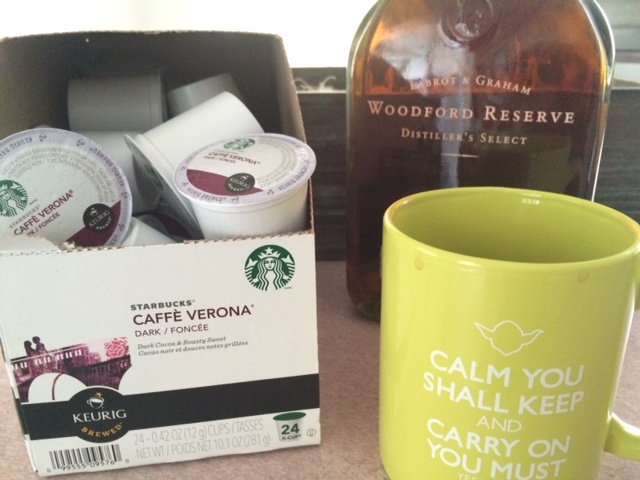 Did you know that the REAL Frappuccino's were made with double strength Italian coffee that we brewed DAILY for this delicious concoction? While Starbucks now ships the "mix" to their stores, I go back to the days when we made it in-store each day.
Fun Fact: one of the customers at my store invented the frappuccino and sold the recipe to Starbucks).
Of course, once the doors were locked and the cleaning supplies came out at the end of the night, so did our secret stash of great coffee cocktails.
Here's one of my favorites!
Backroom Barista Special
Ingredients
11/2 cups half & half
2 K-cups Starbucks Caffe Verona
1/4 cup chocolate syrup
1 tsp vanilla extract
1/4 cup Woodford Reserve
Optional whipped cream
dusting of cinnamon
Directions
Warm the half & half (if you have a wand steamer this is great, if not just heat it in a saucepan on the stovetop)
Add the Starbucks Caffe Verona, chocolate syrup, vanilla and bourbon and stir.
Top with whipped cream & shake some cinnamon on top
I'm thrilled that Cross Country Cafe is finally carrying an array of my favorite Starbucks K-Cups
Caffe Verona – for after dinner or in one of my FABULOUS coffee drinks
Pikes Place Roast – named for the flagship Starbucks store. This well balanced coffee is delicious ANY time.
Veranda Blend – because everyone has a blonde moment now and then.
DETAILS
For more holiday articles, visit a few of my favorite bloggers:
Would your brand like to participate in #Thanks30? Fill out this form for more information.