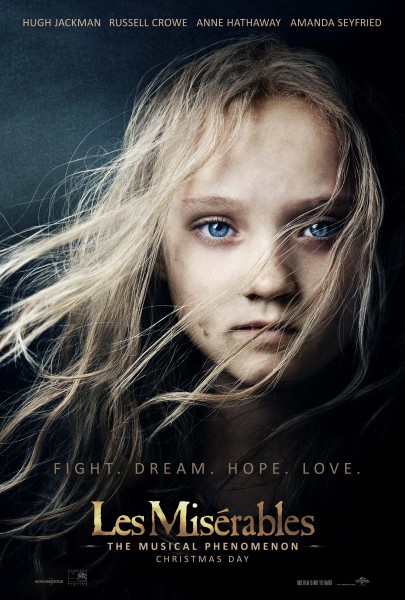 Our new member of the Champagne Living team (and veteran Bro' over at The Review Broad) Ben had the good fortune to screen the much anticipated Les Misérables last week when he was in Los Angeles representing Champagne Living. He'll be sharing his take on the movie (HINT: the cynical movie critic called us IMMEDIATELY after the screening).
Since the rest of us here won't be able to see it until Christmas Day, we thought we'd get you as excited for this movie as we are by giving you a visual taste and offering a FUN giveaway (courtesy of Universal Pictures).
"Set against the backdrop of 19th-century France, Les Misérables tells an enthralling story of broken dreams and unrequited love, passion, sacrifice and redemption—a timeless testament to the survival of the human spirit. Jackman plays ex-prisoner Jean Valjean, hunted for decades by the ruthless policeman Javert (Crowe) after he breaks parole. When Valjean agrees to care for factory worker Fantine's (Hathaway) young daughter, Cosette, their lives change forever."
Les Misérables is the motion-picture adaptation of the beloved global stage sensation seen by more than 60 million people in 42 countries and in 21 languages around the globe and still breaking box-office records everywhere in its 27th year.
Starring:                                 
Hugh Jackman
Russell Crowe
Anne Hathaway
Amanda Seyfried
Eddie Redmayne
Aaron Tveit
Samantha Barks
Helena Bonham Carter
Sacha Baron Cohen
Directed By:     
Tom Hooper ("The Kings Speech")
For more information
One (1) Winner will receive: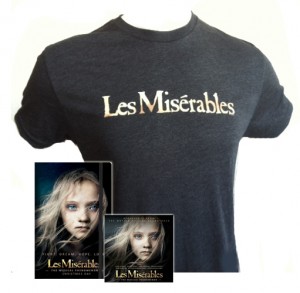 ·         $25 Fandango Gift Card
·         T-shirt
·         Journal
·         Official Soundtrack (pre-order here)
·         Ornament
WINNER – Daun R.
Prizing provided by Universal Pictures