It's time to look back on this year and say one thing "be thankful." 
I have gone on trips that changed my life and have seen amazing movies during such trips.  This year has been capped with one of the most amazing trips I have been on.  I'd never been to LA and I can imagine seeing LA like this ever again, it still feels like a dream almost a week later.
Arriving in LA I really didn't know what to make of this city. 
I was happy to find out that on the Pacific they do drive on the same side of the road.  So I climbed into the back of the Lincoln MKZ and opened a bottle of water and mushed my face against the glass to take in the area.  And then we pulled up to the hotel.
Brunch at the Four Season LA is insane and at this point in the day I had absolutely no desire to eat breakfast food.  After seeing my room it was realized that everything at the Four Seasons in insane.  I found another restaurant on the iPad in my room and hung out by the pool and grubbed some Fish Tacos (Yum). Then I rested for the most important part of my journey screening This Is 40.
I sat down after spilling my diet coke and popcorn out of nerves and chatted with the other bloggers before the movie started.  I was not too sure what to expect.  I love Judd Apatow's films he always walks a fine line of raunchy comedy and heart of gold comedy that makes his films not for everyone.  The house lights dimmed and I hunkered down for the screening.
I walked out with a dropped jaw. 
Thinking only one thing "people are going to hate this movie."  This is 40 is the most honest film I have seen in a very long time and it is amazing but very far from the comedy that it is billed as.
So what is This is 40?  It is a drama with very funny moments.  Anyone going to see this who has been in a long relationship or is married can relate to this film.  It is so honest about the difficulties of relationships, marriage, business and family.  Life is hard we as people are reminded of this every day this film is a reminder of just how hard life can be.  Judd Apatow captures life in such a way that very few filmmakers have or can.
The film's structure is so episodic 
It deals with universal pressures of raising kids right, eating well, exercising regularly, keeping the house tidy, maintaining sexual passion, and Apatow takes his portrait of marital strain one step further by delving into the family's finances.
That is not to say that this film is not hilarious.  There is an amazingly creepy scene with Charlyne Yi that had me laughing for about and hour after I got back to my hotel room.  Any of the scenes involving Chris O'Dowd, Robert Smigel, and Jason Segel were outright laugh riots.
However, this film really belongs to Leslie Mann. 
She is BRILLIANT in this role.  Mann's Debbie is complex and compassionate all while maintaining her character's difficult and shill exterior.  Rudd's performance as Pete was also amazing and complex.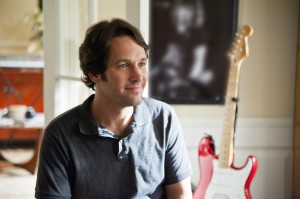 This film is not a feature of good or bad characters it's so human that it transcends that with tons of dimension for every character so the audience ends up loving them and hating them from time to time.  So this is the exact opposite of escapist cinema but it resonates much more than any other film I have seen this year.
After years of marriage, Pete lives in a house of all females: wife Debbie and their two daughters, eight-year-old Charlotte (Iris Apatow) and 13-year-old Sadie (Maude Apatow).  As he struggles to keep his record label afloat, he and Debbie must figure out how to forgive, forget and enjoy the rest of their lives…before they kill each other.
Director/Writer: Judd Apatow
Cast:  Paul Rudd, Leslie Mann, John Lithgow, Megan Fox, Maude Apatow, Iris Apatow, Chris O'Dowd, Jason Segel, Melissa McCarthy, Graham Parker, Lena Dunham, Annie Mumolo, Robert Smigel, Charlyne Yi, Lisa Darr and Albert Brooks
Based on Characters Created by: Judd Apatow
Produced by: Judd Apatow, Clayton Townsend, Barry Mendel
Executive Producer: Paula Pell
For more information:
We were guests of NBCUniversal for a press junket, screening and interview with the director and cast of This is 40. All opinions are strictly our own.