When I want you in my arms
When I want you and all your charms
Whenever I want you, all I have to do is
Dream, dream, dream, dream – The Everly Brothers
I WISH!
Ok, so I'm showing my age (most of you don't remember The Everly Brothers), but All I Have to do is Dream was one of those romantic songs that spanned GENERATIONS. While the song still makes me get all mushy inside, it also reminds me that I haven't had a good night's sleep in AGES.
I spend SO much time flying – bi-coastally, across continents, and simple jaunts from Florida to New York yet falling asleep on an airplane eludes me. Inevitably I arrive exhausted and cranky (and HUNGRY – unless I'm flying first class). I've eyed those little bottles of Dream Water that are sold by the register at the airport newsstands – but never tried them.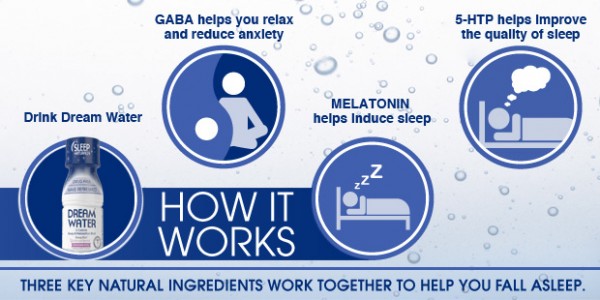 This week a LOT of you will be traveling to your family celebrations. Expect to see LONG lines at TSA, full flights (are you ready to be bumped?), and cranky passengers.
Travel can present numerous challenges to sufficient sleep, and inadequate sleep can lead to unwanted irritability and fatigue. Not enough leg room, people climbing over you during air travel, jet lag, strange hotel rooms, and changes in daily schedule lead to tossing and turning while away from the comforts of home. With all the distractions and hassles of travel, Dream Water is the perfect tool to help holiday travelers maintain a regular, healthy sleep schedule regardless of their destination.
Dream Water is natural, has no calories (whoo hoo), and no preservatives. These little bottles are the PERFECT size for getting through TSA (2.5 oz) and would make a FUN stocking stuffer for people like me, who always seem to be boarding a flight.
INGREDIENTS
GABA – to help relax
 Melatonin – to help induce sleep
5-HTP Tryptophan – to help improve the quality of sleep
If you forget to pick them up at Target, CVS, Walgreens, etc. – you can always grab a bottle at the airport (at Hudson News, Paradies Shops, etc.).
Price
$2.99 per bottle (or PRICELESS for some sleep).
FREE
Sign up on the Dream Water site for a FREE shot of SNOOZEBERRY Dream Water > Click Here
For more information
I received a product to facilitate this post.