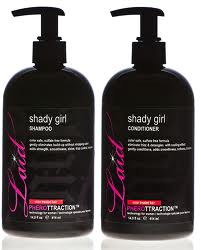 I'm a little old for these jokes, so I'm not even going there. I did want to show what is now my FAVORITE new hair care product. Whatever I use has to be grab 'n go, because I have neither the patience nor the talent to do my own hair. That's ONE of the reasons that I wear it short like this – it's EASY.
Here's what I think about Rocker Stylist David Hensley's hair care line!
Pherottraction
I wanted to let you know about the pheromone element of Pherottraction that is laced into this line of products. They've included the pheromones in the shampoo and conditioner because hair allows the pheromones to work faster and longer (as there is more surface on the hair than on skin).
PHEROTTRACTION™ for women uses an exclusive blend of six pheromones aimed at enhancing a woman's senses…letting her embrace every moment as her finest
David Hensley
STYLEBOOK
Head over to the Laid Website and check out the stylebook for HOW TO CREATE some FABULOUS looks using their products.
THE SKINNY
I'm a convert and I challenge you to try Laid Shampoo, Conditioner and other haircare products and not fall in love. I get a LOT of these beauty products to try, sometimes having to try 2 or 3 a week, and I can HONESTLY SAY that the Laid Shady Girl Shampoo and Conditioner as well as the Fill me Up Texture Spray are the BEST of the BEST.
YOU
If you have ANY questions that you'd like me to ask David about his products or styling, he's going to be answering them for you. Please e-mail them to champagneliving@gmail.com with the subject: LAID. With the change of season, and all of the great looks from NYFW – I figure we all want to try something new, and David is a hairstylist ROCKSTAR.
To purchase their products or for more information go to
I received Laid Brand products to facilitate this review. If you try to take them away from me I'll start screaming like a 3 year old. All opinions are strictly my own.