I know what you're thinking. You're thinking WHY is Ms. Champagne Living, a woman who loves nothing more than to go out to 5-star restaurants talking about fast food chicken? Ahem, you don't believe that I go out to The Capitol Grille every night do you? Absolutely not. I love running out and grabbing a quick meal and bringing it home to Mr. S (it's all about making my life easy), but it has to be REAL food and it has to be FRESH.
When I was invited to visit Louisville, KY two weeks ago as a guest of Kentucky Fried Chicken I thought about it long and hard. They didn't tell me very much before leaving, except that the trip was about #KFCFresh. I was intrigued, as I never equated fast food with fresh food.
I was wrong…very wrong.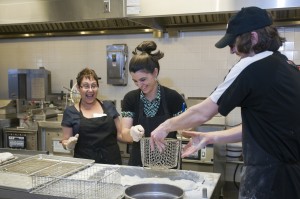 Now, I don't want you to think that we were elbow deep chicken the entire time, but we did have the opportunity to dig in and actually MAKE the fried chicken. What better way to learn just what goes into the process? Of course, I'm all about getting the secrets to doing things the BEST way possible. I tried and tried…but could not get ANYONE there to actually hand over that secret recipe.  I was even able to get into the….VAULT (only to find a safe inside – with the actual secret recipe). It turns out that with ALL of the people that work for KFC and Yum! Brands – ONLY TWO PEOPLE have access to the secret recipe. Even the companies that MAKE the spices for KFC don't know it (they dole out half of the mixture to one seasoning plant and one half to another).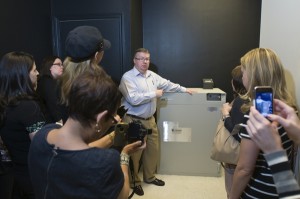 Since there was no getting in to that safe, I was determined to learn any other secrets that I could while I was there. I kept a close eye on the chefs, listened intently to our hosts, knowing that I'd come away with something VERY special.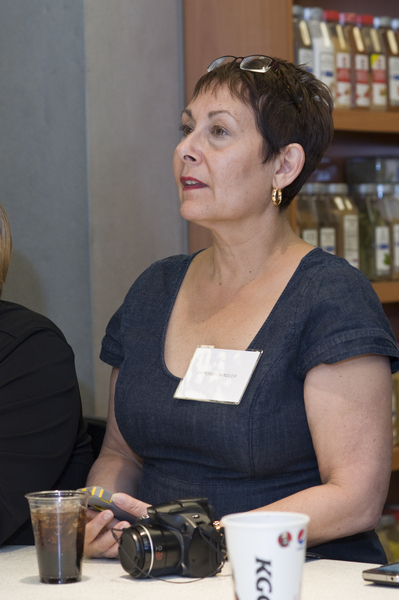 Here's what I learned ~
Myth: KFC always has the same menu
Reality: They are CONSTANTLY testing and tweaking their recipes. As a matter of fact they hire consumers like you and I to TEST recipes up to 5 days a week.
Hint: If you live in the Louisville area, they get their testers through a company called Delve (told you there'd be secrets)
Myth: KFC has the same foods all around the world
Reality: KFC's head chef Bob Das spends his days creating new recipes. He's a REAL CHEF trained at a culinary institute. Recipes are changed for different countries depending upon tastes and products available. Bob loves nothing more than creating the next new menu item. This month he's reintroduced my FAVE – Chicken Pot Pies into the restaurants.
Hint: Check with your local KFC. Because they are franchises there may be items at one restaurant that are not carried at another.
Myth: Everything arrives frozen and precoated, ready to fry
Reality: Just the opposite is true. Each piece of fried chicken is made with FRESH chicken. The flour and seasoning mixture is made up fresh each day, just like you do at home. The special seasonings are added to the flour and sifted and then the chicken is hand dipped and coated before being cooked in a pressure fryer.
Hint: Chicken is only held for a short time and then donated to local soup kitchens.
Myth: They're a typical corporation that doesn't care about their customers
Reality: They have the most AMAZING programs that give back to the community. The scholarship program generously helps out those in need of financial help. As a matter of fact at this very moment there are 300 college students in school on scholarships from KFC
Hint: If you have a child of college age, check out some of the innovative ways that they choose recipients. Last year they offered a TWITTER contest for a scholarship. Updates can be found on KFCScholars.org (2013 scholarships will start registering on December 1st)
Myth: They brought a bunch of bloggers there to make themselves look good. There's nothing in it for me.
Reality: They were extremely transparent with any and all of the questions that we asked them.
Hint: There's something BIG in it for you, because they sent me home with $500 worth of KFC gift checks to give away. Come back and check for the FIRST giveaway soon!
I wrote this post based upon a trip to Yum headquarters that was generously paid for my KFC. All opinions are strictly my own.