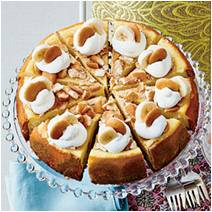 Lately each time I look in the fruit bowl I  notice that my bananas are starting to turn a bit, which is PERFECT for baking this absolutely delicious Banana Pudding Cheesecake. It's a tad unexpected and a whole lot of decadence.
Banana Pudding Cheesecake
Ingredients

1 1/2 cups finely crushed vanilla wafers
1/2 cup chopped pecans
1/4 cup butter, melted
17 vanilla wafers
2 large ripe bananas, diced
1 tablespoon lemon juice
2 tablespoons light brown sugar
3 (8-oz.) packages cream cheese, softened
1 cup granulated sugar
3 large eggs
2 teaspoons vanilla extract
1/2 cup coarsely crushed vanilla wafers
Garnishes: sweetened whipped cream, vanilla wafers, sliced bananas tossed in lemon juice
Preparation
1. Preheat oven to 350°. Stir together first 3 ingredients in a small bowl until well blended. Press mixture onto bottom of a greased and floured 9-inch springform pan. Stand 17 vanilla wafers around edge of pan (rounded sides against pan), pressing gently into crust to secure. Bake 10 minutes. Cool completely on a wire rack (about 30 minutes).
2. Combine bananas and lemon juice in a small saucepan. Stir in brown sugar. Cook over medium-high heat, stirring constantly, 1 minute or just until sugar has dissolved.
3. Beat cream cheese at medium speed with an electric mixer 3 minutes or until smooth. Gradually add granulated sugar, beating until blended. Add eggs, 1 at a time, beating just until yellow disappears after each addition. Beat in vanilla. Gently stir banana mixture into cream cheese mixture. Pour batter into prepared crust.
4. Bake at 350° for 45 to 55 minutes or until center is almost set. Remove cheesecake from oven; gently run a knife around edge of cheesecake to loosen. Sprinkle top of cheesecake with coarsely crushed wafers. Cool completely on a wire rack (about 1 hour). Cover and chill 8 hours.
Yield: Makes 10 to 12 servings
Total time: 11 Hours, 10 Minutes
This recipe comes via my association with  Southern Living magazine