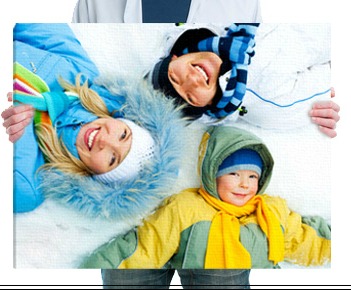 The mansion is full of beautiful art work, but I realized the other day that although I do have a wall of framed photographs, that I don't have any that are large statement pieces. That lead me to thinking that with Ben and Steph getting married this year that the one thing I'd love to have are photos of MY wedding and THEIR wedding (if it ever happens…the date has been changed at least a half dozen times).
I knew EXACTLY where to look – the online art gallery that I've turned to again and again to decorate the mansion (and Ben's mini-mansion) – GALLERY DIRECT. Imagine my surprise when I found out that they're having a  SALE RIGHT NOW on photos on canvas. While that doesn't help me with photos of the kids, I can order one of Mr. S and I from 31 years ago.
Discount: 75% off (with canvas' starting at $109 – you could get a canvas photo for as little as $28)
Code at Checkout: photo75
Expires: 2/1/12 (so hurry)
Free shipping
Your entire order will ship for FREE, even on oversized canvas artwork.
No hassle returns
Call it an in-home trial. If you're unsatisfied, for any reason, you may return the artwork. Just like that.
Free image optimization
They'll recreate your artwork on the medium of your choice, with the framing options of your choice, at the size of your choice.
I am a blogger ambassador for Gallery Direct, as such I receive artwork to facilitate my reviews. All opinions are strictly  my own.