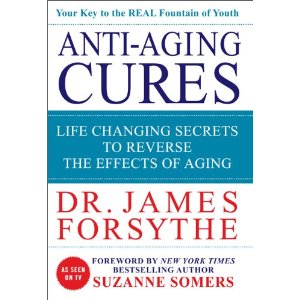 Ponce de Leon came in search of the fountain of youth.  While he and I have something in common, we've both "discovered" Florida  neither of us have yet to find the fountain of youth (and believe me, I've drank from quite a few fountains in my time). I may not have found the waters that are supposed to restore youth with a single drink, I have found products that help a little.
Creams & lotions
Eating well
Exercise
Bioidentical hormones
are just a few of the ways that I've learned to slow down the clock a bit. I've heard rumblings about the controversial HGH, and wanted to learn more. I grabbed a copy of Anti-Aging Cures: Life Changing Secrets to Reverse the Effects of Aging
 by Dr. James Forsythe, with a Forward by Suzanne Somers. I learned most of what I know about BHRT from Ms. Somers' books, and figured if she was on the bandwagon, I should take a look.
Broad "A" reviewer over at The Review Broads and my best friend for many years, read the book as well and she's been on bioidenticals a lot longer than I have. Here's what she had to say:
This book creates its own maelstrom of fact and is of great interest to those of us who are in the "drug pocket," where Medicare will not pay for drugs that our doctors have stated are necessary to keep down our blood pressure, to help us lower our cholesterol, to keep those with depression and bipolar and other medical issues on a downward spiral.

I could not put it down.  If we do not inform ourselves of our rights to the best health and lifestyle possible, we fall into the role of victim.  I believe this is an important volume, and whether you agree or not, I suggest that you read it.  I don't have the answers, nor do I know the "real" story, if there is a "real" story.  I do know that pharmaceutical companies are the money barons of our time.  They also do much good.  Dr. Forsythe steps into the periphery of this "war" of facts, natural versus pill, and I appreciated his insight.  Do I know the answers?   Absolutely not.  I can tell you that I use alternative, natural medicines, and have no idea if they are safe or not.  You have to do your own research here, and make your own decisions.  Many believe that the FDA is outdated and based on the profits of the political leanings of the money machines – the Big Pharm companies.  I believe this is not a black and white issue, and that anti-aging is a new and exciting realm in our world today.  What are the answers?  You have to make your own.
There is a LOT of controversy surrounding the use of HGH, and while the benefits are easily seen, the FDA is always the slowest to come around. This has landed Dr. Forsythe in hot water, as he uses it regularly with patients. According to the doctor some of the benefits of using this hormone are
clear, wrinkle free skin
a healthier libido
higher energy levels
stronger bones
a more efficient heart
better memory
better eyesight and hearing
lower cholesterol
increased muscle mass
lower body fat
stronger immune system
and the list goes on and on
The cons of course of just as obvious and include an price of about $6,000 per year and the fact that there have been some negative side-effects (which this doctor claims are from giving incorrect dosages).
I'm still on the fence about the whole HGH thing. I do know that my bioidentical hormone doctor said that because of the controversy that if he thought I would benefit from the injections (oh yes…INJECTIONS), that he would send me to an endocrinologist. So far, I haven't jumped at the chance.
To learn more about this controversial fountain of youth. Check out Dr. Forsythe's book: Anti-Aging Cures: Life Changing Secrets to Reverse the Effects of Aging
I received a copy of this book to facilitate this post. All opinions are strictly  my own.