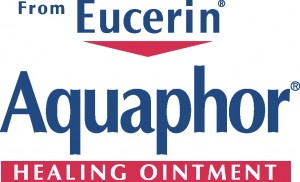 Today I spent the day in South Beach at the beautiful Mondrian Hotel. It was a star studded day, that was spent on a beautiful deck overlooking the water with the Victoria's Secret angels. I'll be writing about the event soon, but one of the things that I noticed was how shiny and smooth the models skin looked. Which of course made me look down at my hands and you know what? Even though mine are not the hands of a 20-something-year-old, they're still soft and smooth with no dry cracks.
At fifty eight I have pretty smooth skin, and while I do have spots from too much sun and age, it's not dry or cracked or ashy. That's because I make a habit of moisturizing daily. I suppose it's because I live in Florida where I have exposed skin all of the time, it makes me more conscious of my skin.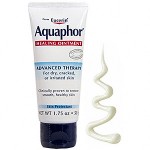 Before moving down here, winters were spent in New England, with weekends on the ski slopes, where chapped skin and lips plagued me. I learned to keep both lip repair and hand cream WITH ME at all times, and used body lotion at least twice a day. I still do.
As a matter of fact, if you dug deep into my handbag you'd find: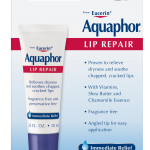 Aquaphor Healing Ointment – Dermatologists trust this product to protect and relieve dry, cracked skin. It is also used by athletes to help prevent friction burns, blisters and chafing that intense physical activity can often cause.
Aquaphor Lip Repair – Enriched with shea butter, vitamins C and E, and soothing chamomile essence,Aquaphor Lip Repair provides immediate and long-lasting relief, and seals in moisture – perfect for soothing chapped lips after outdoor runs, skiing, or whenever your lips feel very dry.
This is a little bit of a switch for  me because I'm a Eucerin girl. When I found out that Aquaphor was MADE by Eucerin, I figured that I'd give them a try… and they're working out well, with the exception of Mr. S…who believes that the Aquaphor Lip Repair belongs to  me, and MOVES it to his vanity every time I leave it out on the counter.
I happen to know that quite a few of Champagne Living's readers live in a much colder climate and get outside to ski, run, walk, sled, etc., and you need protection, so we're going to be giving away a set of the Aquaphor Healing Ointment and Lip Repair along with a $50 gift card to treat yourself with to one of our readers.
To top things off  Aquaphor is running a sweepstakes to win some great sports gear (even I could be lured back to the slopes with new skiis).
Aquaphor Winter Sports Gear Sweepstakes.
Instructions: Head to the Aquaphor Facebook page and follow the instructions to enter to win $3,000 worth of new winter sports equipment!
I received product & a gift card to facilitate this post. All opinions are strictly my own.
GIVEAWAY
Winner – Marla K. – Flushing, NY
Extra Entries
Like Aquaphor on Facebook – let us know in the comments below
Follw me on twitter @zipporahs and introduce yourself
Comment below with your tweet
Subscribe to Champagne Living, "Join the Clique", follow me on facebook or twitter – all found on the sidebar (each counts for 1 extra entry)
Tell your peeps on your blog, facebook page or twitter about this or any post (each counts for 1 extra entry) and link to us.
Share this giveaway on any contest/sweepstakes/giveaway site for 5 extra entries..
This giveaway is open to US residents, 18 and over and ends on March 15, 2012
No purchase is necessary.
Odds of winning are dependent upon the number of entries received.
Void where prohibited by law