It takes a girlfriend to just KNOW when you need a little lift, and last week my bestie Jewel hosted that lift at Bloomingdale's in the Aventura Mall at the MAC costmetic counter. Boy did I need it. I was invited along with a host of other South Florida bloggers to learn about the newest makeup to  match any color, any tone, any ethnicity. Now, I don't normally wear foundation. I wear a tinted moisturizer, because up until my Bloomies MAC4ALL event, I couldn't find a shade that looked natural.
As I was driving the two hours to the event (I need to move the mansion…it's a beautiful location, but very FAR from anything fun), Jewel and I chatted on the phone. I was feeling under the weather and I was arriving sans makeup (a frightening sight – but don't fear, I was wearing big sunglasses). She suggested I be the model for the day, and I agreed, hoping that it would lift my spirits and energy a bit.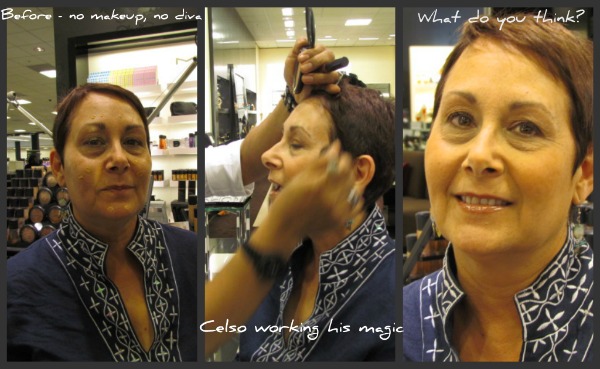 One look into  Celso's (MAC makeup artist extraordinaire) beautiful green eyes, and I FORGOT that I wasn't up to par. He patiently taught us all, as he demonstrated on me, fielding all sorts of questions…the kind that you want answered, but always FORGET to ask until you're trying to apply all of that makeup at home. I felt like a princess. Bloomingdale's rolled out the red carpet and treated us to drinks and delightful black & white cookies that were as big as my head (well almost).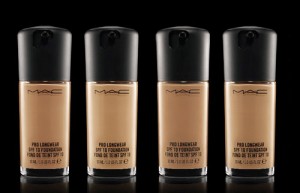 Then, to top things off, the oh, so handsome Jorge Estivez from CBS4 arrived, with his camera man to interview everyone about stores using social media to launch their latest products. I was being made up, so didn't get the chance to speak on camera, but you can see Celso working his magic on me during the taping.
It was a FUN day, but most of all I learned a lot of great techniques, bought some much needed foundation and lipstick and have plans to go back for more. Next time I'm having Celso teach me how to do evening makeup!
Thank you to Bloomindale's Aventura, MAC cosmetics, Celso and of course my dear friend Jewel for as she would say a "Fabulous" day.