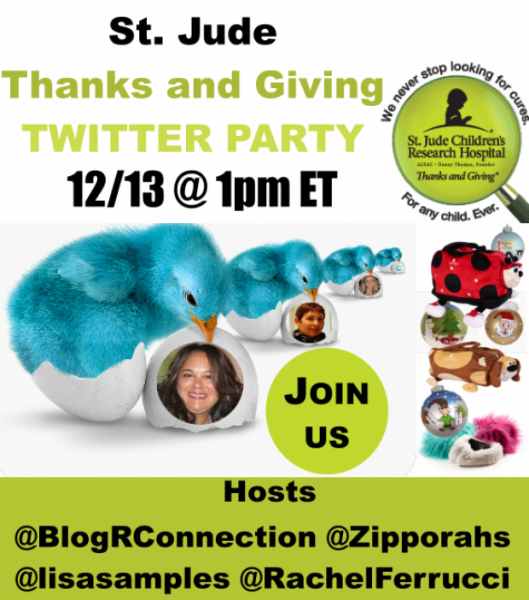 You are cordially invited…wait, that's too formal. Why don't you stop in on Thurday?…no, too informal.
Let's start this again.  
Champagne Living, Life with Lisa, Rachel Ferrucci and The Blogger Connection would LOVE it if you came to our twitter party this Thursday night. We've decided to band together to help St. Jude and we'd LOVE it if you joined in. Our goal? To raise awareness for some of the ways that you can help.  St. Jude Children's Research Hospital® has a charity inspired campaign called Thanks and Giving going on right now that allows you to "give" while purchasing gifts for your friends and families…the gifts that they WANT!
Every year, St. Jude creates signature gifts that are a hit for everyone on your list. These range from ornaments designed by St. Jude patients, kids cooking tools, jewelry, golf accessories and much more. Join us as we talk about "thanks" and "giving" and how 100% of the proceeds of these gifts benefit the hospital and kids.

This December, St. Jude Children's Research Hospital® and its St. Jude Thanks and Giving campaign partners will give holiday shoppers new ways to give thanks for the healthy kids in their lives, and give to those who are not.

Now in its ninth year, the campaign and its partners have raised awareness and more than $312 million in funds to help St. Jude children with cancer and other deadly diseases with pioneering research and exceptional care. Support of these partners is critical as no family ever pays St. Jude for anything.
Did you know that no family every pays for anything at St. Jude?  It makes me realize just how much our contribution really matters.  Thankfully, my family has not needed these services and I pray that we never will, but for those kids with cancer – St. Jude is there to step in and I'd love it if you help me to support them this year. Thanks and Giving is great opportunity for everyone to buy gifts that give back.
Please help me spread the word about what St. Jude is doing and help me reach out to others about this great opportunity for everyone to buy gifts that give back.
Did I mention that there will be PRIZES? Yes, LOTS of fabulous prizes at that.
St. Jude is THANKING AND GIVING to YOU!  Giveaway
There will be a FIRST, SECOND & THIRD place winner announced on December 18th!
First Prize
Second Prize
iPod Docking Station – $35, designed by a St. Jude patients (100% goes to St. Jude Children's Research Hospital)
Kids Cooking Tools Set – $20 (100% goes to St. Jude Children's Research Hospital)
Kmart Ornaments – $5, available at KMART ($1 benefits St. Jude Children's Research Hospital)
Third Prize
Join Us Thursday, December 13, 2012 at 1pm EST for the #StJudeKids Twitter Party. Simply RSVP HERE > St Jude Twitter Party
Join the #StJudeKids Twitter Party 12/13 at 1pm ET – @stjude would love your support – RSVP to #WIN goo.gl/OkNFo Pls RT

— Zippy Sandler (@zipporahs) December 8, 2012