The Details:
Initial Reaction: NO WAY
BUT WAIT!
Look at what I found as I walked around this massive warehouse store. Gifts that I could split up, mix & match, and use as hostess gifts.  I found gifts for my dog,  movies for my niece, and toy cars for my nephew, blu-rays for Ben (only $5.99), sparkling wine with 2 flutes for hubby & I to celebrate with, and LOTS of gifts that I could split for all of the hostess gifts that I need this year. My mother in law would LOVE those cuddly slipper socks (3 pk) and I could split them up and give a pair to Ava and another to Sandy.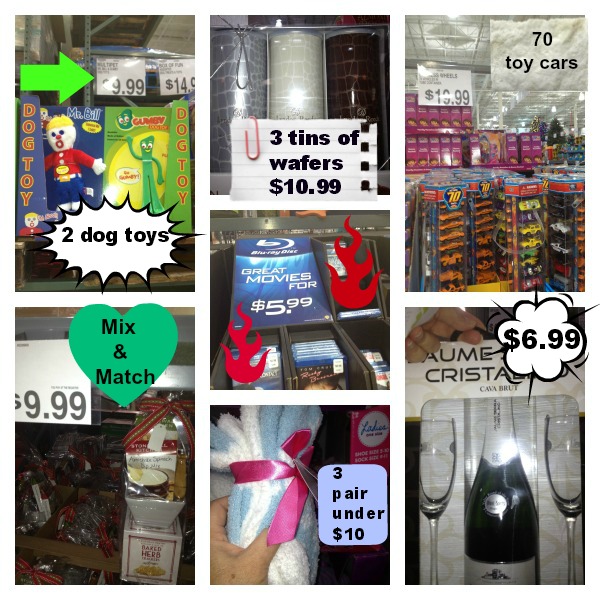 In all honesty, I had other items in my cart and YES I left BJ's with LOTS of gifts and I kept it all under $100. I'm not giving the specifics of what I bought for each person, as I know that some members of my family actually read Champagne Living and I want to keep their gifts under wraps until it's time to rip them open.
This was one of the EASIEST challenges that I've had to do. There were also lots of cards, wrapping paper, bows, tags and of course holiday decorations for great low prices as well.  Of course, it wouldn't be BJ's without a trip by the jewelry counter….even if it was to make a mental wish list.
The bottom line:
There were SO MANY gifts in the $10 range and even more in sets that could easily be split for hostess gifts, teachers gifts, stocking stuffers, and more.  etc. Of course if you're budget is big – there are computers, jewelry (see above), televisions- all at discounted prices.
I've been shopping at BJ's since the late 1980's in Massachusetts, and later in Rhode Island. I was excited to learn that there were BJ's Clubs here in Florida when I moved down (it felt like a taste of home).
Not a member?
BJ's is offering a FREE 60 Day membership to try out the fabulous shopping.
Supermarket Sizes — we carry many of your favorite brands
USDA Choice Meats — cut fresh by our in-Club butcher
Organic & Natural Foods — delicious selection of USDA-certified choices
National Brands — the best in electronics, computers, home goods and more
Monthly Coupons — use BJ's coupons and manufacturers' coupons to save big