Screen International named him one of the "UK Stars of Tomorrow 2011" – they sure got that one right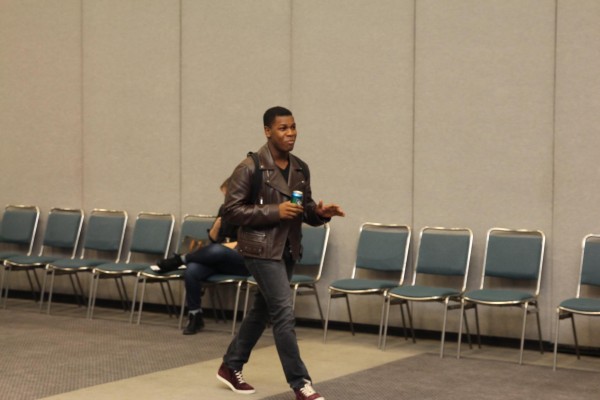 With a disarming smile that lights up the room as he enters, John Boyega enters for our interview. Within seconds I realize that this is a man who is incredibly humble and lots of fun to be around. A jokester ready to laugh and join in the fun, he is the easiest of the group to chat with.
I hope that you enjoy this as much as I enjoyed it when it happened….
Question: When you first put on the Storm Trooper outfit and saw yourself in the mirror, what was your reaction?
JB:   I did like the way my glutes looked.  All right, it was a good experience, I mean, because something like that (*the costume) kind of makes it so real that you're involved in this universe.  When you put on the costume it's the final step of becoming a character, and you see yourself as a character that isn't you, and so that is something that was quite profound.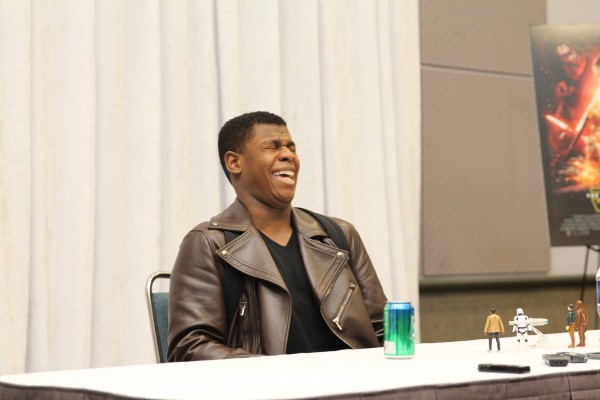 Question:   What was your first impression when you raised your light saber?
JB:   Oh, that was a good day.  It was in the trailers, anyway, in the ruins, in the castle. There are these kids who actually make the technology for the light sabers; they're quite young.  They brought it in this black case, opened the case, I picked up the light saber, and you know, he was just looking at me and you can see how holding the light saber, how that captures the imagination of onlookers. I was definitely eager to score that day.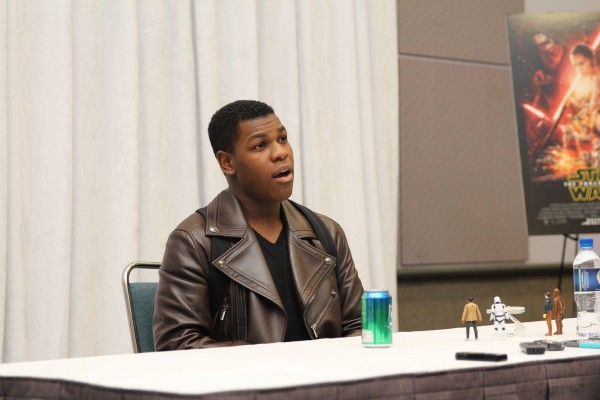 Question: How does it feel to be a part of a franchise with this kind of legacy?
JB:   It feels really cool and quite weird at the time, because you don't think about all of those specifics when you're auditioning, because it's all about booking the part, and you don't think about that while you're  filming because it's about the reality of the scenes.  But, the characters don't know that they're in Star Wars movie that will change people's lives.  They're in their reality.
I remember being with my driver in the UK when we're going to the set, and he said:
You know what, mate? When you die, you're not gonna be really dead because you're gonna be everywhere anyway, and I just thought that's an interesting thought.  So, it's quite surprising to be a part of that.
Question: So what kind of training was involved for the light sabers?
JB:   Hand-to-hand combat. Specifically me and Adam had to do the choreograph scenes together.  Finn has a lot of shooting and running,  especially with me and Rey.  Daisy and I had to get our cardiovascular skills up, and that was treacherous.  But it was fun because now filming the scenes, you realize why the training was so intense. The scenes are literally practical effects on real locations, so there's no time to kind of slack.
For more of John Boyega, you'll just have to see the movie.