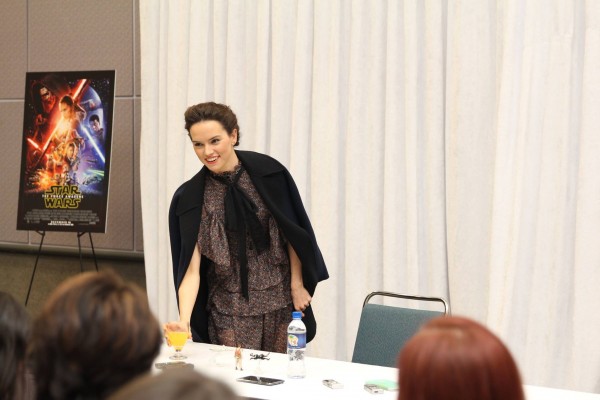 Elegant and with an ethereal beauty, Daisy Ridley enters for her interview. It's difficult to believe that she has not been this route for many years, as her soft spoken confidence and welcoming smile exude that star quality. Yes, this is her first major motion picture, and what a film make her worldwide debut…Star Wars: The Force Awakens. I can't even begin to fathom how it must feel to be cast as the lead in a movie that will forever make her mark in the industry.
We had the opportunity to sit down with Ms. Ridley during the Star Wars Event last week. She gave us a little insight into what it was like to be this generations hero(ine).
On being this generations Luke Skywalker
She's a pilot so there's Han, and she's a kick-ass woman, so there's Leia.  She definitely has the humble beginnings and an incredible story like Luke.  Obviously it's very exciting that I'm a girl and that more people hopefully will be able to relate to this story because of that.
On being an action figure
It's really cool, but I've got this suitcase of stuff sent to me and I received it when I was alone. I put everything away in the suitcase and came back the next day and there were figures everywhere. My sister and I live together, I was like, what are you doing? Put them away, that is so weird. I just moved out and she was like "I can make the flat a shrine to you."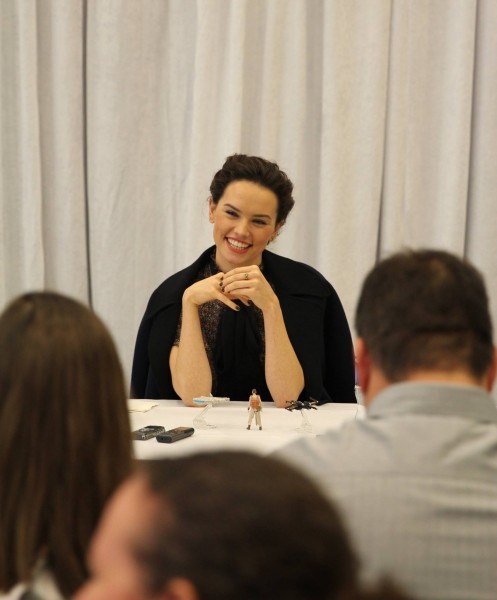 On what about her is like her character Rey.
I see a lot of myself in her.  Of the qualities I think I possess in small things I think Rey has in greater amounts.  I like to think I'm kind of brave, but she's far braver. I like to think I try and do the right thing, but she far exceeds that.  She's not polished and she's nuanced, and I think that's why she's so brilliant and so relatable.  But she's far more of anything I think I could ever be.
I guess because of her circumstances and the fact that she's not real, I don't know.  She's brave and honest and open. Like I hate lying, and I'm a very open person, and she's open to everything that's going around her, even though it scares her.  She kind of plows on, so I hope I have those qualities.
On being a part of the Star Wars franchise
I'm glad I kind of didn't know how far it reached.  The first convention we did,I was like oh my god, there are a lot of people here, and everyone is here for the same reason!  I think that would have been quite overwhelming if I had been dealing with that while also dealing with the fact that I'm just a young girl being thrust into this thing and I don't quite know why I'm here and all that kind of stuff.
But everyone would be  be infected by this thing and obviously it sweeps you along with it.  But I was always kind of more of it's like it's nice for me that I don't have that sense and I still enjoy it as I do, because I think not everyone is a super fan. To be a representative of those other people is great.