This post has been sponsored by Roadside Attractions, and as such I will be receiving product. Please note that all opinions are those of Champagne Living.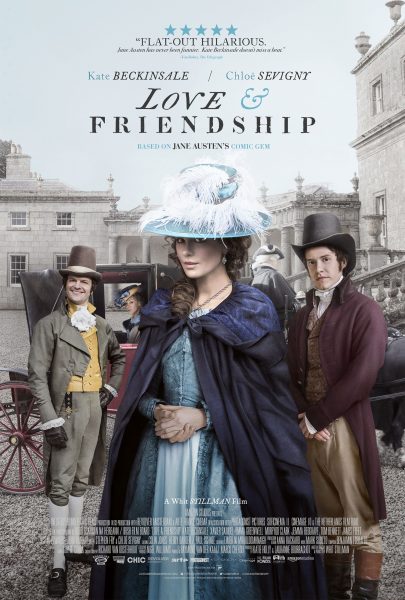 The Woman
Jane Austen – Just her name evokes the notions of English Gentlemen, romance, coupled with the occasional parody.  For those of us who love to bury our heads within the pages of a good romance novel, her work remains the standard to which all others strive.
The Story
LOVE & FRIENDSHIP is an adaptation of young Jane Austen's novella Lady Susan, believed to have been written in the mid 1790s but revised up to a fair copy prepared in 1805 and finally published by her nephew, James Edward Austen-Leigh, in 1871. Love and Freindship (the original title), written when she was only a teenager was created as sort of a fairy tale-parody, set the tone for many of Austen's later novels.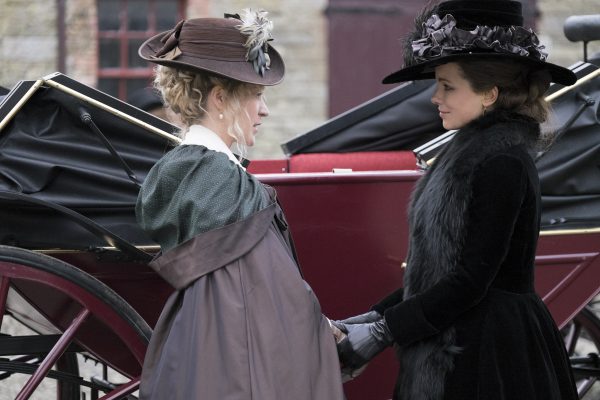 The Movie
Set in the opulent drawing rooms of eighteenth-century English society, Love & Friendship focuses on the machinations of a beautiful widow, Lady Susan Vernon (Kate Beckinsale), who, while waiting for social chatter about a personal indiscretion to pass, takes up temporary residence at her in-laws' estate. While there, the intelligent, flirtatious, and amusingly egotistical Lady Vernon is determined to be a matchmaker for her daughter Frederica—and herself too, naturally. She enlists the assistance of her old friend Alicia (Chloë Sevigny), but two particularly handsome suitors (Xavier Samuel and Tom Bennett) complicate her orchestrations.
Adapting Jane Austen's unpublished early novella Lady Susan, Whit Stillman returned to the Sundance Film Festival (where his Metropolitan premiered in 1990) in top form with his latest comedy of manners. Kate Beckinsale excels in her role as the deliciously devious Lady Vernon and delivers each line with relish. With exquisite period detail and a script teeming with bon mots and witty dialogue, Love & Friendship is a rare—and rarified—treat.
The film is based on Jane Austen's Comic Gem set in the 1790s. LOVE & FRIENDSHIP concerns beautiful young widow Lady Susan Vernon (Kate Beckinsale) who has come to Churchill, the estate of her in-laws, to wait out colourful rumors about her dalliances circulating through polite society. Whilst ensconced there, she decides to secure a husband for herself and for her daughter, Frederica, played by Morfydd Clark.
Chloë Sevigny, (who starred with Beckinsale in Stillman's The Last Days of Disco), plays Lady Susan's friend and confidante Alicia Johnson, with Stephen Fry as her husband, the "very Respectable" Mr. Johnson. The waters are troubled by the arrival at Churchill of the handsome, eligible Reginald DeCourcy (Xavier Samuel) and silly but cheerful — and very rich — Sir James Martin (Tom Bennett).
Lady Susan's designs are vehemently opposed by the DeCourcy clan: Reginald's sister, Catherine DeCourcy Vernon (Emma Greenwell); his mother, Lady DeCourcy (Jemma Redgrave) and father, Sir Reginald DeCourcy (James Fleet). But Susan's brother-in-law, magnanimous Charles Vernon (Justin Edwards), prefers to see her, and everyone, with a benevolent regard.
After a series of dramatic turns at Churchill, Lady Susan finally risks destruction when her jealous rival, Lady Lucy Manwaring (Jenn Murray), arrives in London to make a shocking revelation, leading to the denouement of denouements.
Produced by Whit Stillman, Katie Holly and Lauranne Bourrachot, and co-produced by Raymond van der Kaaij, LOVE & FRIENDSHIP is going to be this seasons movie to see with your girlfriends.
The Buzz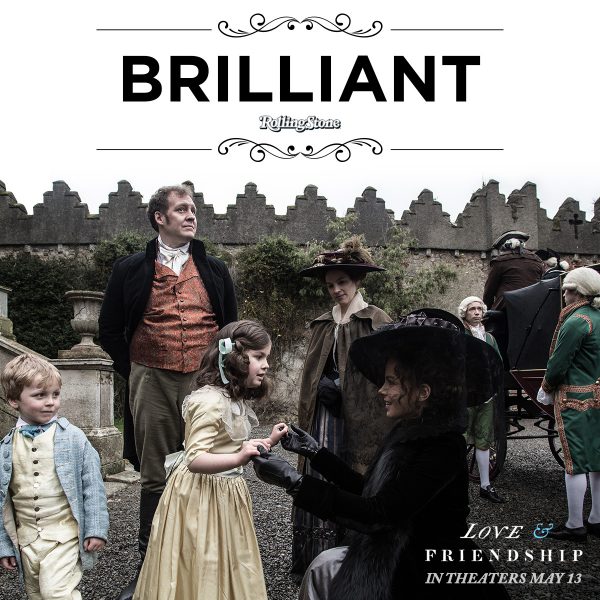 If you're a Downton Abbey fan and like to laugh, LOVE & FRIENDSHIP is right up your alley.  Humorous and Witty, Devious and Scheming, you'll want to call the girls and schedule a night out of movie and girl talk. LOVE & FRIENDSHIP is on our Champagne Living must see list for this month!
Directed By: Whit Stillman
Starring: Kate Beckinsale, Chloe Sevigny, Xavier Samuel, Emma Greenwell
Rated PG
The Giveaway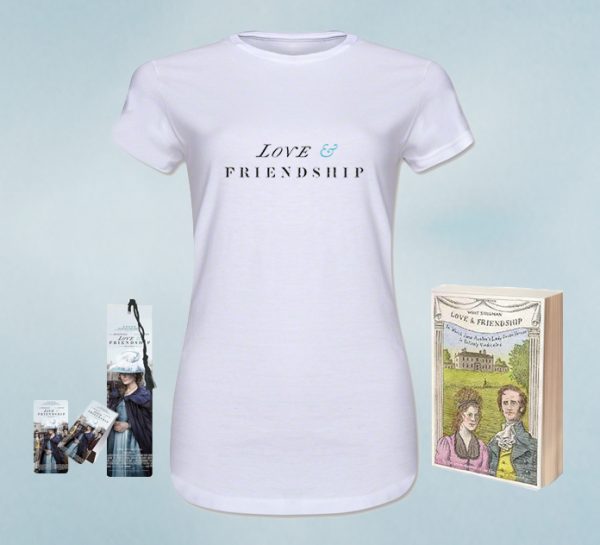 One (1) winner receives a Love & Friendship Prize Pack
$100 Amazon gift card
T-Shirt
 Bookmark and copy of the Book, Love & Friendship: In Which Jane Austen's Lady Susan Vernon Is Entirely Vindicated by Whit Stillman
Open to US mailing addresses only
Prizing courtesy of Roadside Attractions


LOVE & FRIENDSHIP opens in select theaters on May 13