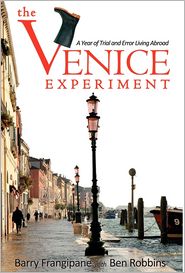 I don't know about you, but I have a bookshelf full of novels, memoirs and travel books that scream the word EXPAT. I did the whole live abroad thing back in the 70's, and ever since, I've been telling myself that SOME DAY I'll go back and do it again. The problem is that SOME DAY should be here already. I keep coming up with excuses like
I don't have enough money
My family needs me
Where and how will I live?
You and I both know that none of these should stop any one of us. I work online, my "baby" is 28 years old and I have an apartment that I regularly rent in Paris. If my landlord doesn't want to rent that one to me long term, I'm sure he has others (or friends who have apartments).
Barry Frangipane and his wife actually took a year to live the dream. Barry had been planning the escape from Florida and just needed to convince his fashionable wife Debbie to pack up her Louboutins (sound like anyone you know?) and live in their favorite city – VENICE for a year. It turns out that it didn't take too much convincing and they were off on a REAL life, PRACTICAL Eat, Pray, Love adventure of their own. The Venice Experiment: A Year of Trial and Error Living Abroad
follows their year abroad in a delightful manner.
Both Barry and Debbie became part of the neighborhood rather quickly, and his hilarious stories about the trials, tribulations and CHARACTERS in his city make you want to toss what you've got into your backpack and hop the next flight over. I loved Frangipane's down to earth style (definitely NOT Eat, Pray, Love-like) of making you feel like you could easily fit in and don hip boots to wade through the rising water in Venice.
If you have been dreaming thinking about taking that year abroad, The Venice Experiment: A Year of Trial and Error Living Abroad
is the book that might push you a little closer to getting their.
Here are some tips from Barry that will have you thinking "I Can Do This" –
Telecommuting – The changes over the past 10 years for telecommuters have been subtle, but together they have produced a tipping point making the idea of extreme telecommuting a reality.  Advances in the quality of videoconferencing make meetings as effective as they would be in person.  Google and Facebook have both launched free high quality videoconferencing in the past year. I was gone for 13 months, and most of my clients never even knew I had left.
Housing – Accept the fact the living quarters are a little smaller, and a little older. American housing, like just about everything else in America, is big compared to the rest of the civilized world. Having said that, you'll wind up spending your non-work time seeing sights and exploring your new hometown.
Cars – Choose a place in which travel by car is not necessary. In Venice, everything is connected by the small tributaries and waterways that thread through the city. Most everything you need – shopping, groceries, business services – was a brisk walk or gondola ride away.
Cook – You could spend a small fortune eating in the tourist trap restaurants, or you could buy fresh groceries every day and live as the locals do, creating your own meals and stopping by the smaller, lesser known eateries and cafes frequented by the locals.
The Venice Experiment: A Year of Trial and Error Living Abroad
is available at Amazon.com and for download on your Kindle.