The reviewer has been compensated in the form of a Best Buy Gift Card and/or received the product/service at a reduced price or for free.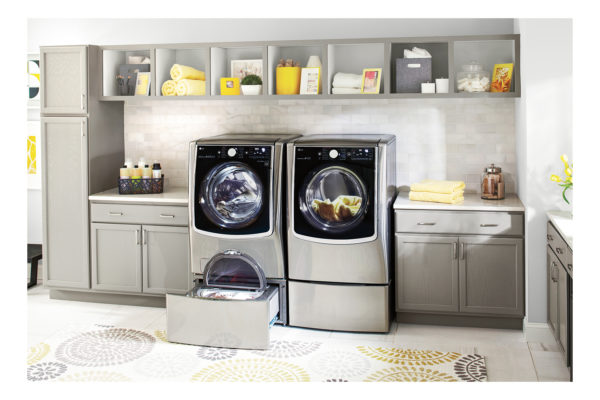 Those three words never make me jump for j0y…no matter HOW fun it sounds when I say them. Even if my laundry room was as beautiful as the one pictured, I'd still run through all of the different things that I COULD be doing.
So, it's not surprise that I look for the BEST
If I HAVE to take time out of my day to wash/dry/fold, then I want it to be both convenient and as clean as possible. So, when it came time to replace my washer and dryer,  I went to Best Buy and replaced my old top loader with a front loading washer that gave me the cleaning performance that I wanted and cut down on the amount of water and electricity that I consumed (this appealed to my frugal side), and I want a washer that spins faster (not just because I thought looking at it would be fun), but to help keep clothes drier and reduce overall drying time.
Keeping up on the latest laundry innovations isn't always a priority
So, I've done a little work for you, so you don't have to wasted your weekend.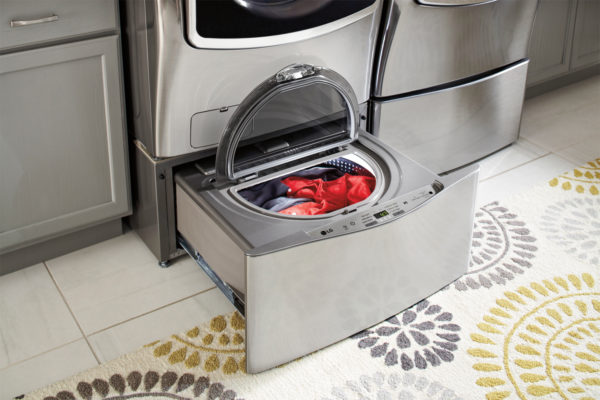 FRONT LOADERS offer the
Best cleaning performance
Gentleness on clothes so they last longer
Most energy efficient to save on utility bills
They use less water and consume less electricity
Spin faster to help keep clothes drier to reduce overall drying time.
The newest models by LG are also SideKick compatible – providing additional capacity to wash 2 loads at once
Why am I telling you this NOW?
Because right now, when you purchase an LG Front Load Washer and SideKick at Best Buy, you can save an additional $150.
I love the Coastal Look when I decorate
So, I think the next time I buy a washer/dryer combo I'll go back to white (I'm seeing white cabinets and beadboarding). The LG – 4.5 Cu. Ft. 12-Cycle Front-Loading Washer has the sleek LOOK that I'd like, but offers 12 (yes TWELVE) different wash cycles including a sanitary cycle that cleans the dirtiest of clothes and lets you add the steam option to effectively kill germs. It also has a FreshCare option on this LG front-load washer to periodically tumble clothes for up to eight hours to prevent wrinkles if you're unable to unload after a cycle ends.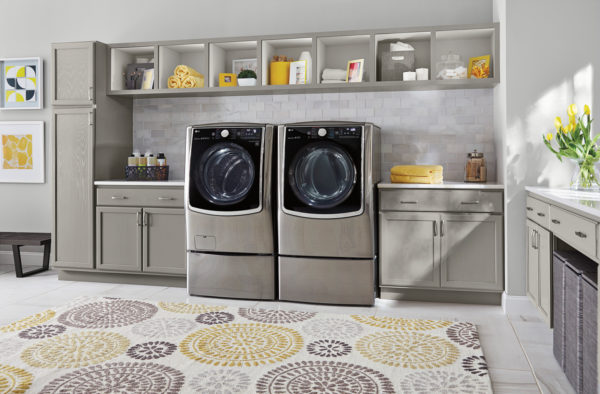 I still hate doing laundry
But, at least I can get it done the RIGHT way and QUICKLY, so I can go on to other things….like sitting by the pool with a cold drink and a good book.


Head to Best Buy and look for one of the Best Buy Blue Shirts. They are experts in the benefits surrounding LG Front Load laundry.
Visit BestBuy.com while you're out by the pool and choose your new LG Washer.