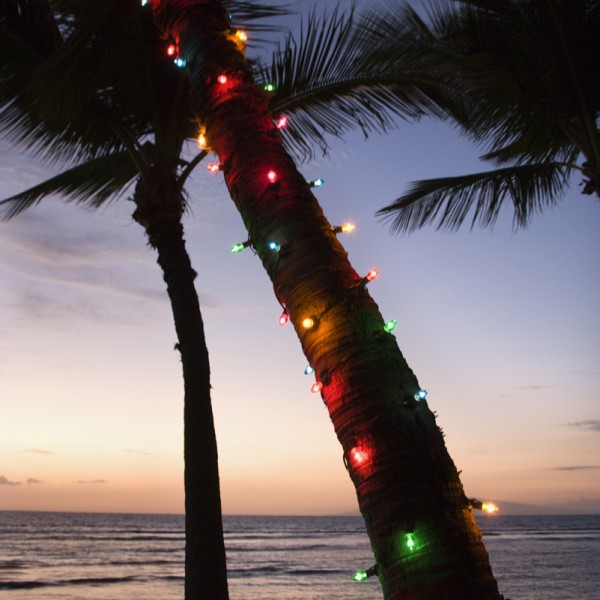 Or as much as the holidays that it can look when you live in a tropical paradise.
There's no chill in the air
Icicles are not forming on the pine trees
There are no piles of dried leaves to jump in
The air conditioner is blasting
We've been in the pool more this month than during the summer
BUT
I went shopping yesterday and the holiday decor has been set out, Thanksgiving and Christmas menus are beginning to appear at the grocery store check out, I saw canned sweet potatoes on a display with marshmallows, those beautiful hand-dipped Hanukkah candles are showing up on end-caps, and turkey is on sale this week.
Pretty soon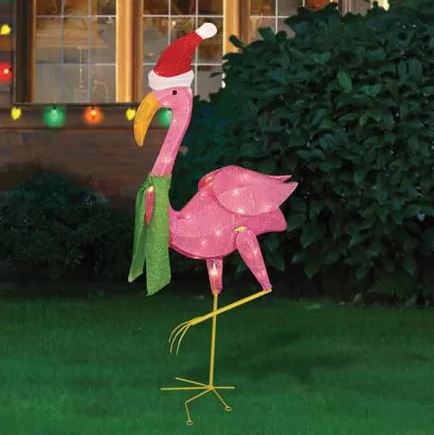 The palm trees will be decorated in lights
There will be lighted flamingos with Santa hats sitting proudly on my neighbors lawn
The stores will be filled with shoppers wearing Uggs and tank-tops (this one has me baffled)
I'll be longing for a more traditional holiday season
Even here at the mansion there are signs of the holidays. Since between Mr. S and I we grew up in a sort of mixed-up, mish-mosh of holiday events (he celebrated NOTHING and I celebrated both Hanukkah and Christmas because of my cousins), we try to do a little bit of everything around the mansion.
This week it's all about the WREATH
OK, so maybe I've jumped the gun just a little (Thanksgiving is still 3-weeks away), but if like me you prefer the smell of pine to the tangy smell of plastic imported from China, then you HAVE to get an early start.
I love that I can capture the beauty of a Christmas wreath, with a ribbon that allows BOTH faiths to be connected. OK, so it's not REALLY traditional, but for us it allows us to express the feeling of the holidays that we BOTH celebrate…together as a family.
The smell of the holidays straight from Christmas Forest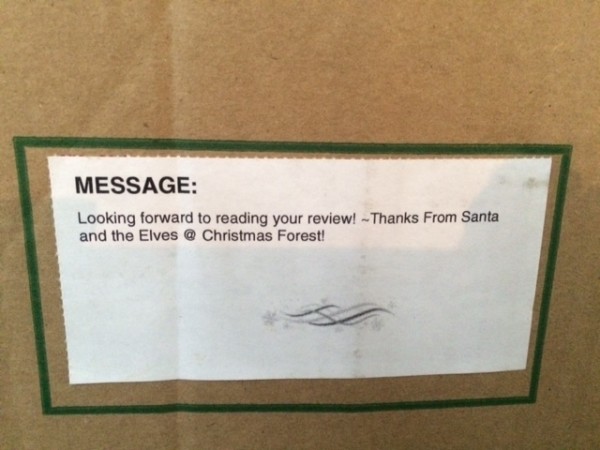 I agreed to review one of their wreaths and now each time I open the door (or when I leave it open since we're in Florida) the smell of evergreen permeates the room, and a little smile comes across my face.
Alive with the fresh evergreen scent of the Cascade Mountains, each of our handcrafted wreaths is a one-of-a-kind creation, and a unique representation of who we are. To put it simply, we love Christmas and look forward to it with childlike wide-eyed wonder every year…and that's what we want to bring to each of our customers.' 
I love their story. They began selling wreaths at a farmer's market in Seattle (Pike's Place) 39 years ago,  making and selling wreaths so the boughs from their local nursery wouldn't be wasted. Today Christmas Forest has grown to a thriving online business, with the same small feel that it did when they first started. Wreaths are created, sealed and mailed all in the same day, with a commitment to protecting the rainforest ecosystem for future generations.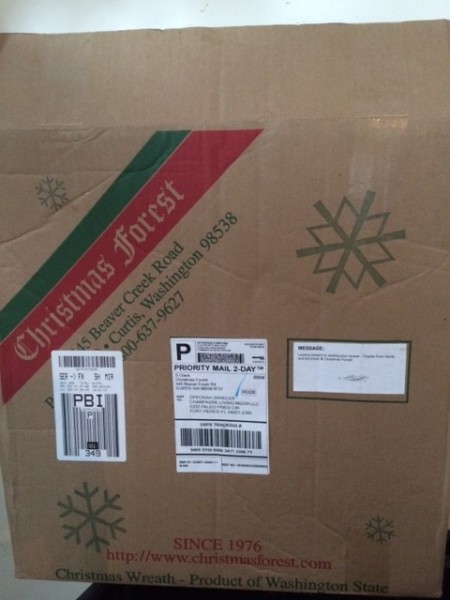 The Details
Wreaths range in size from 20″ – 25″ with a variety of trims from the traditional to modern, with prices in the $40 – $55 price points with FREE SHIPPING.
From their website
6 Tips for Choosing a Christmas Wreath
It's that time of year once again when Christmas starts to occupy the thoughts of many as they decide not only how to decorate their own home but what gifts they will give to their family, friends, clients or colleagues. Here are some tips for making meaningful choices your gift recipients will love:
1. Take into consideration the color scheme the recipient is currently using. If your friend has a green door, you may not want to send them a wreath with a big blue bow. A fresh wreath topped off with a gold bow would be a perfect choice because not only does it complement the green door, but it also brings more of the colors of Christmas to the exterior.
2. When making your choice, think about the preference of the recipient and not necessarily what appeals to your taste. You may fall in love with the designer look of the Holiday Swags, but perhaps your great aunt would much rather have the traditional circular wreath with a great big red velvet bow.
3. We have some great 'fancy' wreaths loaded with ornaments, lights and colorful bows. You could choose the Mardi Gras colors of the Gala Glitz wreath or the fun geometric designs of the Art Deco wreath for your friend that marches to her own drummer.
4. When deciding on which Christmas wreaths would be best to send out to your client list, we recommend something a little more conservative such as the gorgeous Christmas Classic wreath or the beautiful Highlander wreath with the tartan plaid bow.
5. At this wonderful time of the season, it's important not to forget those who share their faith with you. Consider sending clergy people, choir members or special friends from your congregation special Christmas Crosses – wreaths in the shape of a cross. This is sure to bring them great joy.
6. Lastly, when giving wreaths as gifts, it's important to consider whether or not your recipient has something they can use to hang it on the door. If you've never seen them display a Christmas wreath, chances are you should probably include a wreath hanger with your gift. This way, you'll be certain they can use it right away.
Yes, it's beginning to look a lot like the holidays….even in South Florida
Purchase
For more information or to purchase a wreath visit : ChristmasForest.com
WIN ONE
We're giving a wreath like the one that I received to one of Champagne Living's lucky readers.
WINNER: Richard F.
Rules
US, 18+
Daily entry
ends 11/23/2015
For more gift ideas, visit a few of my favorite bloggers:
Would your brand like to participate in #Thanks30? Fill out this form for more information.