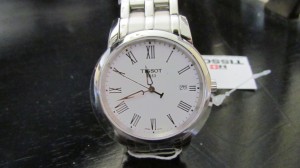 The little details can make the biggest impression. How many times have you heard how by wearing a fabulous pair of shoes with a pair of jeans and a t-shirt can make you look like a million dollars? It's true. While you can buy a t-shirt at WalMart, if you add a well made pair of shoes and a good watch, no one will ever know that the "T" came from a discount store.
Both Mr. "S" and I have nice watches, but I realized that "B" has a great suit, and a nice pair of shoes, he doesn't have a good watch. Having graduated college last year, he's still in the process of looking for work in his field (his degree is in communications, but he's a brilliant filmmaker). It's time for him to have a new watch. It's one of those investments that show that you notice the details and take care to make good choices
Last week I went to the Tissot site to shop. I knew that I wanted to buy him something that was CLASSIC (and he had told me in the past that he doesn't like leather straps). I also had a budget.  My goal was to find the PERFECT WATCH for him.
Classic
Can be worn both casually and with a suit
He'll be proud to wear for many years
Swiss made (traditionally Swiss works are the finest)
Within my budget (in the $200 range)
I went to Tissot knowing their reputation for fine watches. Their selection starts at about $250 up to just under $3,000, so they know investment watches. I've looked through their selection at my local jeweler, but this was the first time I'd used their site. I liked being able to search for what I wanted by
Mens/Womens
Style
Collections
Price
Since I was looking for a classic watch at the bottom of their range, I searched by price and worked my way through. Since Tissot has such a LARGE selection it was much easier to shop this way. I tend to get frustrated shopping online with a large selection like this and just having these search options made the entire process so much easier for me.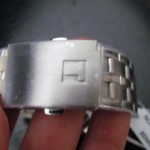 It was fun seeing the celebrity ambassadors like Tony Parker and Danica Patrick and their collections (I have my eye on the Glamsport Danica Patrick). I also noticed that they had models that reminded me of what my husband wears for less money (good to remember for the next purchase).
I knew IMMEDIATELY when I saw the Classic Dream that it was a watch that he'd wear and would look great on. It was priced at $250, which was where I wanted to be….but, I always price check and found the same watch on Amazon.com for a little less. There were differences though. Both sites offered free shipping, but Tissot's was a limited time offer. When I went through the checkout process, Tissot asked about the size of the watch band. My son has a very large wrist and I was worried that a regular size band might not fit, so having that option was GREAT (I have the opposite problem and it would be nice to buy a smaller watch band for myself). Tissot also offered PAYPAL as an option, which is VERY convenient.
Still, I wanted to spend less, so I ordered the watch from Amazon.
Exactly ONE WEEK from the day that I ordered it, the watch arrived.  It's even NICER in person than in the photos on Shop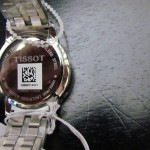 Tissot. It arrived in a heavy display box and came with a guide to the watch, warranty information, a catalog and a novela in Spanish (I guess it's about Tissot, I don't speak Spanish so it was lost on me). There was also a QR code on the back of the watch. Interestingly it was in a position that made it almost impossible to scan as I couldn't get my phone between the sides of the band.
While I LOVED the shopping experience on the ShopTissot website, finding the watch for less was important to me. If I compare it with shopping in a store for the watch, I think I'd prefer a store over online because I like being able to feel the weight, see the actual size, etc.
Disclosure: This shop was partially compensated as part of a social shopper insights study for Collective Bias, I paid for the remainder of the watch – so, YES the opinions are my own.