al fres·co
al ˈfreskō/ – in the open air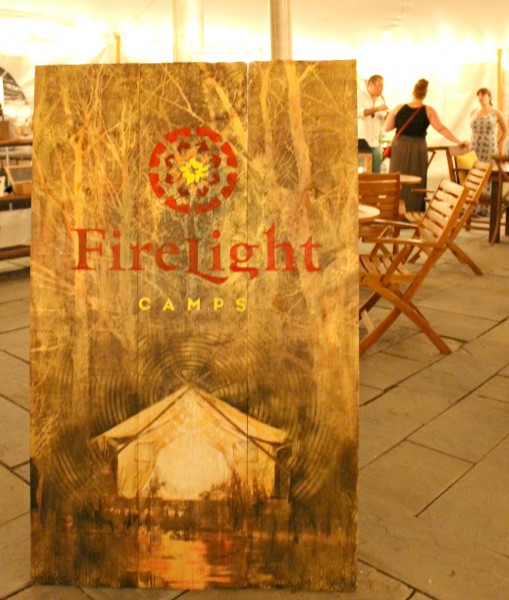 Last month I got to take that term quite literally, as I headed to Firelight Camps in Ithaca, NY to take part in an Iron Chef style competition with al fresco All Natural products. While you all know that I'm neither much of a cook, not the camping type, my imagination ran wild as I thought of everything that could go wrong in this scenario.
Would I be eaten alive by bugs…or worse BEARS?
Could I sleep with the sound of nature around me?
How would I make it through with no sockets to plug my devices in?
Would I be a weight dragging my cooking partner down?
Would I poison the judges with my food?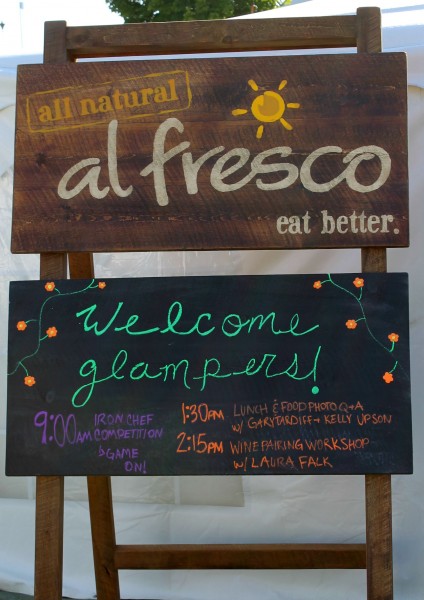 I made it through – al fresco style
A few good reasons to use al fresco All Natural…whether you're glamping or at home.
They offer a variety of fully cooked sausage. – You may be a better cook than I am, but my biggest fear was having to create a dinner (including prep) very quickly. Having pre-cooked chicken sausage means I can pretty much heat and eat.
Creative – it's easy to get creative when you've got so many flavor choices.
Breakfast – I NEVER make breakfast sausage, because I thought it was bad for me. al fresco All Natural frozen breakfast links,  Breakfast Fully Cooked Chicken Sausage, and Breakfast Fully Cooked Chicken Patties means that I can grab an English Muffin…scramble some eggs, toss on a patty & a slice of cheese and toss it in the toaster oven for a GOOD breakfast with little fuss.
Lunch – TWO WORDS FOR YOU – Toss it on the grill! Whether you're grilling up their chicken burgers or like Mr. S, prefer the Gourmet Chicken Grillers…it's all good.
Dinner – See below for our winning dinner recipe, cooked up al fresco at Firelight Camps – on the GRILL!
If I can do it – YOU CAN. Because as you well know, I am excellent at making reservations, whereas making dinner. EH!
Relax
Well, if you're like me…you look forward to kicking back in your glamping tent with a good book, a bowl of pasta and a glass of wine!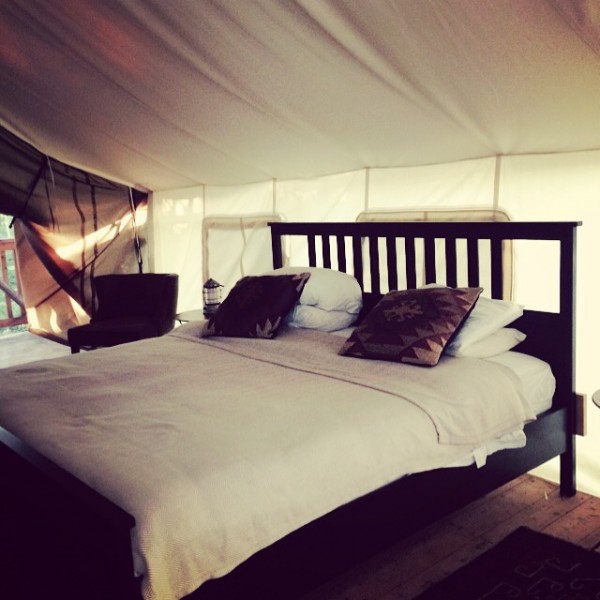 Situated in Ithaca, NY, Firelight Camps offer an escape from city life for those craving a bit of outdoors, without having to give up the luxury that they deserve. The perfect balance for couples and friends with differing vacation styles – one can hike, while the other spa's. Exploring nearby Ithaca, enjoying the great wines of  Experience the Fingerlakes, swimming in the waterfalls at Buttermilk, or dining at the Northstar Pub on locally sourced food and drink are all part of what makes glamping in the area a treat.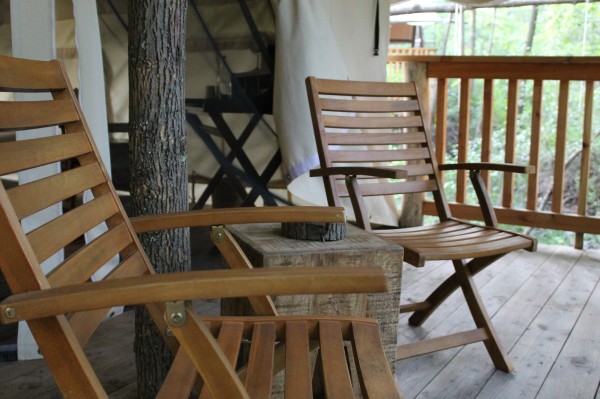 Starting the day with Firelight's artisanal breads, butter and preserves, pastries, fresh fruit, yogurt, house granola, seasonal juices, tea, coffee and milk before heading to morning yoga sets the tone for your stay. A round of bocce ball, happy hour in the lounge tent, a good book on your tent balcony, or a hike to the falls means you've left the hustle bustle behind and can decompress quickly. Ending the day with the BEST s'mores and some local wine around the campfire (ghost stories or a game of heads up anyone?) before you fall asleep to the cacophony of frogs & crickets outside your tent.
On to the competition
Let's start by saying that I SHOCKED MYSELF with my level of outdoor cooking skills. As you know, I do grill, but I've only camped once before in my life. My camp-cooking-skills are quite limited. We began with a breakfast competition…which honestly, we didn't fare so well in. The concept of a breakfast sandwich was good (breakfast sausage, eggs & avocado with melted cheese on a baguette), with an accompanying fruit salad. It was the execution that I lacked.
BUT THEN DINNER CAME
My friend Rachel says that I'm half Jewish, half Italian…and when given a box of pasta and al fresco Roasted Pepper and Asiago Chicken Sausage to work with – MIRACLES can happen. With my partner Scarlet from Family Focus Blog's great ideas (and AMAZING salad dressings that she creatively conjures up) and a WWBD (what would Ben do) process, we grabbed the supplies for an aglio olio sauce. Easy? Should have been, except that we had a MYSTERY BASKET of ingredients that we wouldn't know in advance. Hmmm….would it be Italian?
Of course not
In our basket was the makings of a great Greek salad – spinach, heirloom carrots, tomatoes, and of course feta cheese. Scarlet went right to work with the carrots, making a orange sriracha and feta dressing, while I boiled up the pasta and began peeling garlic.
Our dinner
Mediterranean Fusion pasta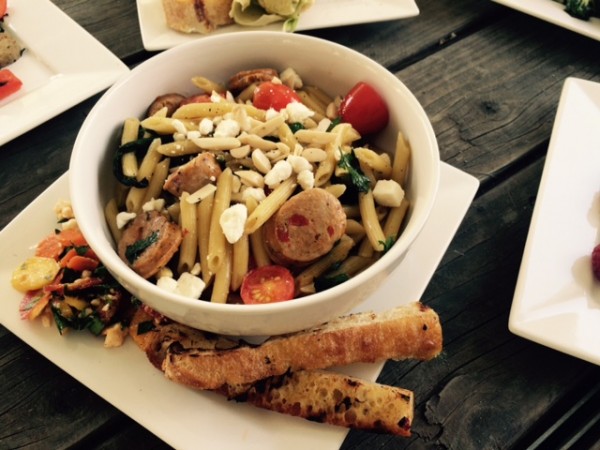 Ingredients
1 lb. penne pasta
½ cup extra virgin olive oil
8 cloves of fresh garlic cut in half
1 package of al fresco Roasted Pepper and Asiago cheese chicken sausage sliced
2 slices fresh jalepeno pepper – minced
1 cup fresh spinach
1 cup cherry or grape tomatoes sliced in half
Feta cheese
salt
Directions
Cook pasta according to the al dente directions on the box
Heat the olive oil over a medium heat in a large saute pan
Add the garlic to the oil and cook to a medium golden color
Add minced jalepeno and cook for about a minute
Add al fresco cooked chicken sausage to the aglio e olio sauce and stir for 1-2 minutes
Drain cooked pasta and add to pan – tossing in the olive oil mixture well
Tear and add spinach leaves and cook until slightly wilted
Add tomatoes and cook for 30 seconds
Add salt to taste
Top plated pasta with feta cheese
Orange Sriracha Carrot Salad
Ingredients
4 Heirloom Carrots
2/3 C finely chopped parsley
1 C feta cheese crumbles
½ C fresh squeezed orange juice
¼ C fresh squeezed lemon juice
¼ C Olive Oil
1 tsp Sriracha hot sauce
Directions
Peel & slice top & bottom off of carrots
Slice carrots thinly
Add all of the ingredients together in a bowl & mix well
We won the dinner challenge!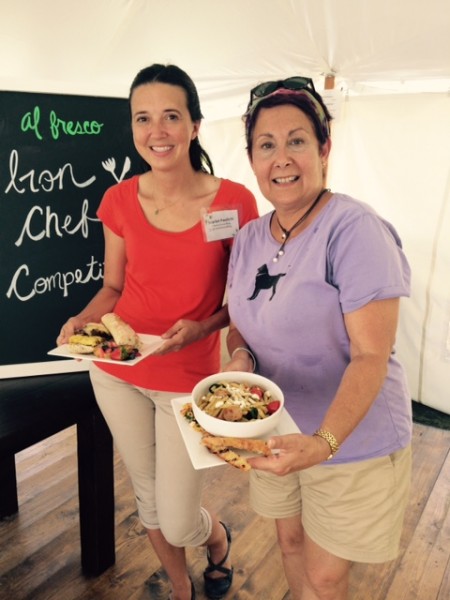 Please don't tell Mr. S that I actually know how to cook!
Note: I was a guest of al fresco All Natural brand at Firelight Camps. All opinions are strictly my own.