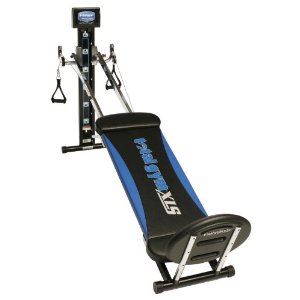 What do you do when you get stuck? When you don't feel like all that you're putting into your weight loss and exercise program isn't working as quickly as you'd like it how do you keep going? Most of us (myself included) want INSTANT success. We want to eat a diet meal, jump on the Total Gym and miraculously lose 10-20-30-40 pounds.
I like learning about people who've actually DONE IT. Reading the stories of women (and men) who have reached their goal can help make the difference between taking the day off (which can snowball) and helping to create (or re-create) that enthusiasm. Even if it's short lived, sometimes that's just the boost that I need.

This week I spent some time on the Total Gym website reading the stories of those who have

overcome those stalls and reached their fitness goals. My favorite? Kristen Miller who went from a size 22 to a size 8 and lost a whopping 80 lbs.  Just learning that she stuck with her program for 2 years before reaching her goal, made me feel silly that I'd want to slack off when I only have 20 or 30 lbs. to lose (I always give myself a range as muscle weighs more than fat and if I'm fit, I make look the way that I want at a little higher weight).
You can read Kristen's story as well as many more who've lost weight, toned up and KEPT it off on the Total Gym website.
As I continue on my weight loss and fitness journey, I find that mixing up the exercises, adding or subtracting some, getting out and walking (including on the beach) really helps. Of course, just hearing what others have done keeps me motivated.
I'd LOVE to hear stories about what YOU do to keep your fitness program fresh.
If you're starting to focus on getting healthier and would like to see if the Total Gym would fit into YOUR lifestyle, go to TotalGym.com (you get a 15% off discount using my link)
I received a Total Gym as a member of the Total Moms Total Gym campaign to facilitate a series of reviews & posts. All opinions, sweat and groans are my own.