Have you seen the new badge over on the right? The one that states that I'm a member of the YouCeleb.com Entourage? If you're wondering exactly what that is, as well as what it means for you, here are the details.
YouCeleb.com is the NEWEST of the online retailers offering SPECIAL promotional pricing on some FABULOUS fashions and accessory items with a bit of a difference.
YouCeleb.com finds items that you'll see worn by some of your favorite celebrities and offers them to you at a SPECIAL DISCOUNT price. A portion of the proceeds from each sale is donated to the charity selected by that celebrity. So not only are you getting a special insider price on these beautiful fashions, but you're also putting your money to good use, by helping charitable organizations.
The BEST PART is that it's absolutely FREE to JOIN!
Here's where I come in. As a member of the YouCeleb.com entourage, I'll be able to
Give you advance information on what's on sale
Offer some cool giveaways to YOU directly from YouCeleb.com
Offer my style advice on YouCeleb.com
So, what are you waiting for? Sign up HERE and keep watching Champagne Living for the LATEST additions from this fun new shopping concept.
Shhhh….don't tell anyone, but Monday's You Celeb offering will be this GORGEOUS Jordan Waterfall Rib Cardi from Babakul.com.
Pricing:
Retail: $105
YouCeleb:
$46.20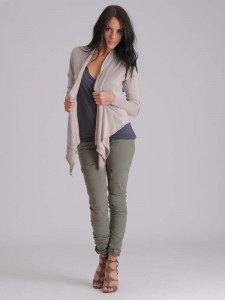 Discount: 56% Off
YouSave: $58.80
I love this look. It's a great transition piece as we move from summer into the fall season and gives that little added flair to a simple t-shirt and jeans or even a casual dress. I own a few of these sweaters and find them to be very versatile. You can wear it loose and casual, tie the front pieces together, or if they're long enough… wrap them around and tie in the back for a wrap sweater look.
This post was written as a result of my association with YouCeleb.com as a member of their entourage. All opinions are strictly my own.