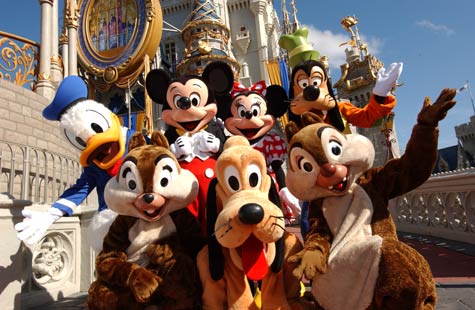 Six days have passed on your week long Disney World adventure and your wallet has been turned inside out. The kids (or grandkids) are still on a Disney high, while you're trying to figure out exactly HOW you're going to pay that unexpected credit card bill from all of the EXTRAS that have somehow snuck up on you.
With time on your hands, little funds and the kids what do you do?
Believe it or not, there are some GREAT things to do at Disney World that are FREE and CHEAP.
Downtown Disney – As a woman who LOVES shopping, Downtown Disney just happens to be MY favorite theme park. With shops galore, it's MY biggest Disney-downfall. So, why do I suggest you hit there when you've got nothing to spend? First of all, there's no admission to this shopping, dining and theater mecca. Then there's…
1. LEGO Imagination Center – the AMAZING LEGO store is a budding architects dream. With a FREE 3,000 square foot outdoor building area, the kids could spend the day creating their own masterpieces with the thousands of LEGOS that are at their disposal. The sculptures (such as the sea dragon just outside the shop on the lake) will provide plenty of inspiration.
2. FREE Magic demonstrations at the Magic Masters Shop, will have you scratching your head in wonder.
3.  Bring their bathing suits, as they can jump and frolic in the interactive fountains.
4. Go to the Rainforest Cafe. I know, I know – it's an expensive place to eat, but who said anything about chowing down? Take a walk inside and check out the giant aquariums and animatronic animals (this is as close as you'll get to a gator without being eaten).
The Boardwalk – Reminiscent of the boardwalks of Atlantic City, Coney Island, etc. this long boardwalk provides beautiful views along Disney's lake. This is a GREAT spot to take a walk in the evening.
1. The kids will have a good laugh looking at themselves in the old fashioned funhouse mirrors.
2. Evenings provide free entertainment along the Boardwalk including – music, jugglers, fire eaters and more. Stop and watch the performers as you stroll along.
RESORTS – What? You have to be staying at those uber cool value resorts to take part in the resort activities don't you? In some cases you need to be staying at any of the Disney resorts to enjoy these, others are free for anyone.
1. Wonder how big those sculptures at Disney's Value Resorts really are? Simply tell the gate attendant that you'd like to look around (you haven't decided where you want to stay yet) and he'll happily give you a 3-hour parking permit. Photo opp or a bathing suit hidden under your clothes? I'll never tell.
2. SING around the CAMPFIRE with Chip 'n Dale. Each night at 7:30 pm the fire blazes at Disney's Fort Wilderness. Guests at any of Disney's resorts can attend (you needn't be staying there). Roast marshmallows (the marshmallow roasting kit DOES have a fee- sticks are .49 each and a bag of marshmallows is around $4.00, the S'Mores kit is about $9.00 – but you can bring your own if you like) and sing your favorite camp songs. A kid friendly outdoor movie (Disney of course) screens each night under the stars as well – FREE of course.
3. Want to see a Geyser erupt? Head over to the Fire Rock Geyser over near Bay Lake (Wilderness Lodge) and watch the eruptions ON THE HOUR. Of course, resort parking is FREE!
3. FIREWORKS – no one wants to miss as Disney lights up the sky each night over Cinderella's Castle, but there's no need to be IN THE PARK to see these. Gather up the kids and head over to the beach at the Polynesian Resort. You might want to bring towels or a blanket if you have one to sit on as you watch the fireworks blaze up the sky over the lake.
4. Go on a HUNT! A hunt for the hidden Mickey's that is. There are Mickey's hidden all OVER the resorts (pools, fountains and more). You can take a FREE self-guided tour of hidden Mickey starting at the Wilderness Lodge. Stop in to the front desk at the lodge and ask them for the list of clues…then spend the day on a mouse-hunt throughout the resort.
5. One of the newer resorts – Animal Kingdom Lodge is a great place to see some of those WILD animals as they walk around. If you've got binoculars or a zoom on your camera, you'll want to use it.  Head through the lobby over to the Anusha Savanna where you'll find the guides ready to answer all of your questions about these magnificent animals.
FOOD – this is Disney World, home of the $8.00 hot dog….but, you're starved!
1. Bring food with you. Disney allows outside food! Pack up your tote with sandwiches & snacks for the kids.
2. Jiko, Boma, and Sanaa at Disney's Animal Kingdom Lodge have a fun pre-dinner tasting tour beginning at 4:00 pm. You'll get to taste samples of some of their exotic African foods. For the Jiko & Boma tour – meet at the Jiko podium and for the Sanaa tour meet at the Sanaa podium.