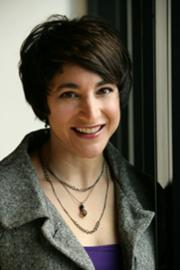 As the excitement over the opening of BRAVE ramps up, I wanted to step back to last month when I had the good fortune of being able to learn more about this incredible animated Pixar feature from the people who made it come to life. Katherine Sarafian has the inside scoop into just about everything BRAVE – she is the producer.  I was fortunate enough to be able to sit down with her as part of a group of bloggers invited to Pixar.
Since this was our first meeting with her, we had some background questions.  It turns out that she's quite the veteran when it comes to Pixar.
"Well it has been a long road, but,  I think that Pixar is one of those places where you can work on lots of different films and have a different career on each film, so I try, on each film I grew into a new role.  I started sort of, entry level, at the bottom, and moved up.  By the time I was on A Bug's Life I was a first-time manager, and once I learned that I could manage people and really enjoyed doing that, then there was a progression into marketing for a while.
Once I was doing that I found out that I could round out my skills and how the more outward facing parts of the movie, and I parlayed that into something on Monsters, Incorporated where I was at a more senior level.  So really just building up and being mentored by great bosses, Starla Anderson and other producers who I've worked with, and the directors I've worked with that really, were really supportive of me and, and, uh, even I made the mistakes, said like okay, well, you know, Pixar is very much about how you recover from your errors.  'Cause I, you know, we learned on the job, a lot of us did here."
Curious as to how this film's story came to be we asked if BRAVE was loosely based on a fairy tale.
"No, it is not based on an existing fairytale.  It's an original story, and it's conceived by Brenda Chapman and based on the relationship of butting heads with her own daughter, actually.  I'd say we've — we're all big fans of traditional and classic and dark old fairy tales, um, but there's not one that it's based on at all.  No, it's an original Pixar creation."
BRAVE is the first Pixar film to have a strong female lead. Of course we had to know who, how and why the story was pitched to the powers that be. We had already heard earlier that day that pitching at Pixar is something that people at all levels can do.
"Well I think it t wasn't a complete coincidence so much as a great convergence of the timing and the story and the talent.  I mean, as a filmmaker-driven studio, our directors and our filmmakers are pitching the ideas from the beginning and, and when it's their turn to pitch an idea they could pitch one but they write what they know, and at this particular time when Brenda Chapman pitched this idea, it was very dear to her heart, having a six-year-old daughter at the time and they were really, really butting heads and she said, what will this kid be like as a teenager?
From that initial pitch, John Lassiter was hooked, like yes, we want to develop this story.  So it wasn't so much about it being okay, it's time for the girl movie.  It was Brenda's pitch in that moment for her slated development.  And then she went into development.  You know, we don't rush the development process, so that took some time, and that's why these films take so long.  I think in a way that that's  evidence that we don't say like, oh now it's time for this.  We let it be what it needed to be."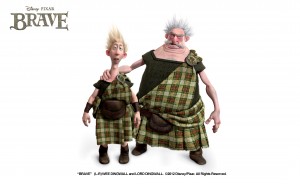 Working on ONE movie for all of these years, I assume that you become like family. Still, you've been in very different roles on various movies, what was it like to learn that you'd be producing this one?
"It was — it felt initially scary, like oh dear, what did I just agree to, you know, because these things are  a marathon, not a sprint and you always believe that your next job is gonna finish up and you're like, oh, I'll do this and I'll take the next project.  Here at Pixar we do lots and lots of things.  We put lots of movies out.  You think you're gonna be on one.  We put out one a year.  That doesn't mean that I get to work on one every, a different one every year.
I'm working on one for a long time and I see other movies coming out.  It's like oh, there's another one, there's another one and I'm still here.  So it was scary to think like I'm about to go into one of these marathons 'cause I had just come off The Incredibles which was, three years there.  That's a long time, and Monsters, Inc., three years, four years there.  So each one of these takes a long time and it's like I'm about to sign on for a long haul because I'd really be on from the beginning. It was worth it every single day, you know, 'cause that also means you've got a filmmaking community every day, like a team and I love working with this team, you know?
The directors and the story team is really a great community.  So I'm gonna miss them, actually.  I've been very weepy, lately.  Like oh, the gang's breaking up, you know?  We're finishing.  I know, yeah.  It's like, it's like the cast party after your high school musical or whatever.  Like everyone's like, oh I'll see you next time.  I don't want to go."
I can't wait to see BRAVE in it's entirety (we only got to see a half hour of it at our Pixar screening).
BRAVE opens June 22, 2012.
While I was a guest of Disney/Pixar on a junket, all opinions are strictly  my own.