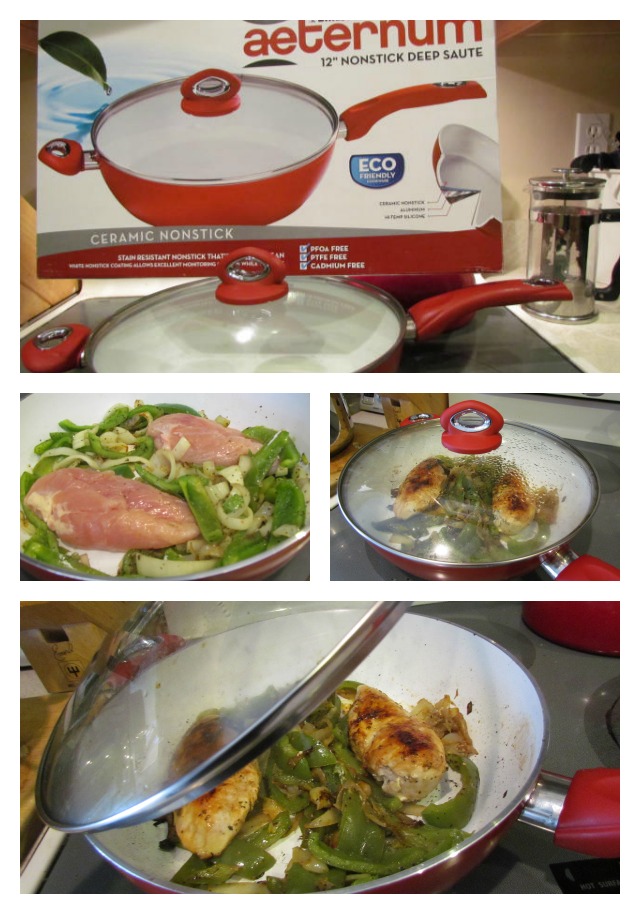 The palpitations are finally slowing down…yes, this woman who makes RESERVATIONS better than anyone I know has been staying home and cooking lately. I took a look at my pots & pans and thought, if I'm going to work in the kitchen, I need a new pan that not only LOOKS great but has all of the…
Features that I want…
Looks GREAT on the stovetop – it's GOT to match the kitchen
Non-stick – for healthier cooking with less fats
Eco-friendly – tough call when you want non-stick
Heats evenly – makes my job so much easier
Easy to clean – because you & I BOTH hate cleaning
My friends at Bialetti came to my rescue and sent me an Aeternum 12″ nonstick deep sauté pan. Just what I needed to create easy dinners, all in ONE pan. You'll be seeing a LOT of it VERY soon, as I've decided that it's the PERFECT pan for cooking just about everything I make at the mansion, and I've got a grilled cheese challenge coming up that you don't want to miss (mmmm…..grilled cheese).
I'm not what you'd call a natural cook. It just isn't in my skill set. I can bake like there's no tomorrow, make a cup of coffee that you'll be talking about for YEARS (I used to do coffee tastings for a living), and yes I can make dinner….but, nothing TOO extravagant. That's why I married a man who owned restaurants (BTW, he loves this pan as well). Of course, less than 5 years after we were married he SOLD his restaurants and went into the wholesale automobile business. So much for picking up dinner every night. I've learned to COPE, but never learned to REALLY shine.
One thing that I KNOW, is that I do a much better job with the proper tools.
I put the Aeternum to MY kitchen test and made
Chicken sauté with peppers, onions, mushrooms & cherry tomatoes and a splash of a great wine
Pork tenderloin teriyaki (with garlic mashed potatoes)
Chicken parmigiana (& penne) – my "go to" dinner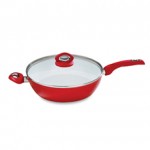 Even heat and the perfect size for cooking for two, in just one pan, the Aeternum now sits on my stovetop. When I don't put a pan away, and put it back on the stove after cleaning, it means that I'll be using it again, and again, and again. The red exterior and high temperature silicone handles for grabbing without  burning my hands look GREAT in my kitchen, and I haven't screamed "OUCH" yet.
So…no…I didn't burn the pan (even heat means that I don't have to turn the temperature up as high as I did on my "old" pan), and no (because of the silicone grips) I didn't burn my hand.
SUCCESS
BUT, once dinner is over, the REAL CHORE begins. CLEAN UP. The following video is me cleaning it WITHOUT ANY SOAP….it just wiped clean. Of course, I went back and used soap after making the video.
The interior features a new "nano-ceramic" coating which is a water-based coating made of titanium and suspended silicate micro-particles (the main component of glass); one of the purest and most ecological materials in nature. This material resists scratches, abrasions and offers a smooth, compact and uniform surface that makes it easier to clean. The white color provides a unique and extraordinary cooking experience.
DETAILS on the 12″ deep saute pan with glass lid 
stain resistant white nonstick nano-ceramic interior
allows excellent thermal conductivity
eco friendly
PFOA free, PTFE free, Cadmium free
suitable for gas, electric, glass and ceramic stoves (not suitable for induction)
THE 411
LOVE IT. As a matter of fact, I found out that they carry the Aeternum line at Bed Bath and Beyond, Amazon.com and Target, so I'm picking up a couple of sauté pans to match. My kitchen accents are RED, and the Aeternum comes in other fun colors, like blue, beige, and green.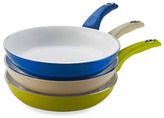 I received product to facilitate this review. All opinions are strictly my own
For more information on Bialetti Aeternum products go to: Bialetti.com and Bed Bath and Beyond.