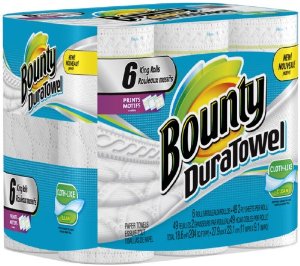 Did you know?
That after only three day's use, your dishcloth can harbor millions of germs and bacteria. As a member of P&G's paid blogger brigade I was challenged to ditch my dishcloth & switch to Bounty DuraTowel.
BUT FIRST 
They told me to use a dishcloth for three days. Three days isn't so long, and it's constantly in soap and hot water. It's clean isn't it? I was about to find out.
If your used dishcloth ranks higher than 300 it's time to ditch your dishcloth & switch to Bounty® DuraTowel – the only paper towel clinically proven to leave surfaces 3X cleaner than a used dishcloth.
MY RESULTS?
According to the P&G Research and Development team, adenosine triphosphate or ATP is a molecule present in all animal, vegetable, bacterial, yeast and mold cells. The standard restaurant kitchen ATP number for a clean kitchen averages between 150-300. The P&G Research & Development team conducted ATP testing on my used dishcloth and my results were 16,632!
See what I mean about feeling SICK?
OK, so I used it to clean my kitchen counters, wash some dishes, wipe up spills. The usual things that you do with a dishcloth…right? How was I to know that what I was really doing was created a GERM MAGNET? Don't you assume that if you're cleaning something that the cloth that you're using is CLEAN from the cleaning solutions and soap?
Now you understand why switching to the new Duratowel by Bounty is a GOOD thing
Bounty Duratowel the only paper towel clinically proven to leave surfaces 3X cleaner than a used dishcloth. I really did think that my kitchen was CLEAN (well…at least not full of GERMS), until that test came back.  It turns out that even after just one day's use, dishcloths can harbor and redeposit millions of germs on the surfaces you and your family come in contact with throughout the day from countertops to sinks to dishwasher handles, and yes even the DISHES.
While they market Bounty DuraTowel to clean counters and appliances
You see that I use it to wash my dishes. WHY? If my dishcloth gets THAT full of germs from wiping a simple counter, I wanted to make SURE that my dishes weren't full of germs. Bounty DuraTowel has the feel of a cloth but it's  strong enough to tackle tough jobs like cleaning countertops, sinks, and even small appliances. Designed with more fibers that hold together even when wet, it provides the toughness you expect from the Bounty Brand with  a cloth-like feel that holds up to just about ANY job in the kitchen.
You can pick up Bounty DuraTowel wherever Bounty products are sold.
This post is sponsored by P&G as part of the P&G Blogger Brigade. All opinions are strictly my own.