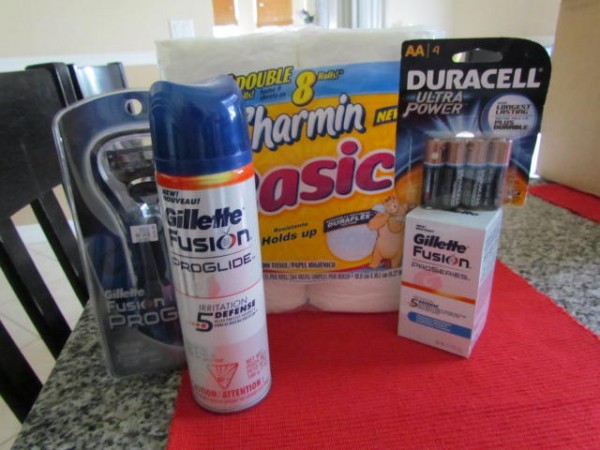 Knowing that Mr. S will probably NEVER see this (shhhh….don't tell), I'm going to admit something that if he EVER found out – he'd take a FIT OVER.
On more than one occasion, I have stolen his precious Gillette Fusion Pro-Glide Razor to shave  my legs. He had/has made it extremely clear over the years that it's the ONE THING that I'm not allowed to use….I can't imagine why he would care. Then again, thinking of the entire shaving process, I guess that I wouldn't want to drag blades that have seen what they've seen across my delicate face.
I finally ditched my girlie disposable shaver and got a matching Gillette Fusion Pro-Glide for me. Or rather, I gave him a NEW ONE and kept his old one for myself. In retrospect, I should have done this a long time ago. Now I've only got to buy ONE package of blades (that we can share), and one can of Gillette Fusion ProGlide Shave Gel to hydrate, lubricate and cut down on any nicks or cuts (I tend to be a sloppy shaver – it's a good thing I'm not a guy).
Gillette Fusion ProGlide Razor: thinner, finer blades for less tug & pull* and incredible comfort (*First 4 blades vs. Fusion)
Gillette Fusion ProGlide Shave Gel:  helps defend against nicks and cuts, burning, stinging, redness and tightness thanks to an active soothing complex that works in three ways to defend against shaving irritation:
Gillette Fusion ProSeries Irritation Defense Soothing Moisturizer: helps fight dryness, burning, stinging, itching and tightness.  This moisturizer features a soothing complex that hydrates and restores moistures to soothe just shaved skin.
All of this makes my shopping SO MUCH EASIER.
Yeah, I still use a disposable razor when I travel, but at home I add the Gillette Fusion products to my regular shopping list. Oh…and YES I remembered to pick up the Charmin Basic (twice as strong and less expensive) and Duracell Ultra Power Batteries (stocking up for hurricane season) while I was out as well. Tomorrow is shopping day once again. Before you stock up, head over to the P&G Have You Tried This Yet for coupons on the great products that I picked up as well.
Don't be like me, you can stop stealing his razor and go get him a new one (shhh….I'll never tell).
GIVEAWAY  

Extra Entries
Follow me on twitter @zipporahs and tweet about this giveaway
Comment below with your tweet
Subscribe to Champagne Living,  follow me on facebook or twitter – all found on the sidebar (each counts for 1 extra entry)
Tell your peeps on your blog, facebook page or twitter about this or any post (each counts for 1 extra entry) and link to us.
Share this giveaway on any contest/sweepstakes/giveaway site for 5 extra entries..
This giveaway is open to US residents, 18 and over and ends on July 20, 2012
No purchase is necessary.
Odds of winning are dependent upon the number of entries received.
Void where prohibited by law.
I received product to facilitate this post. I actually stole his razor…if you tell him I'll hear about it FOREVER.  All opinions are strictly my own.