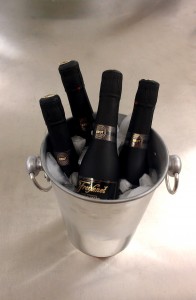 While your kids may be outside playing with bubble soap – I'll be enjoying some bubbles in the backyard at the mansion.  Here are a few fun ideas for gathering up the girls and adding a bucket of bubble of your own (yes, you can still play with the bubble soap and wand – this just makes it more fun).
Fresh and Light Potluck Pool Party
One of the best ways to spend a hot summer day is by the pool. Round up a group of girlfriends and have them all bring their favorite summer salad. From a couscous salad with dried fruit and pine nuts to a simple plate of sliced cucumbers and tomatoes to a refreshing ceviche, your potluck pool party will be delicious and cool for a hot summer day. Arrange your fresh salads on a table with a bright tablecloth and colorful plates and napkins alongside a colorful plastic bucket filled with ice and Freixenet minis.
Bubbles & Barbecue
The art of grilling allows for creativity and an adventurous frame of mind. Instead of dishing up the expected burgers and brats or heavy slabs of meat, try some lighter recipes this season. Flame up in-season veggies that any meatlover will happily devour by drizzling them with a tangy balsamic vinaigrette or tossing them with a compound butter filled with fresh herbs. Put some new twists on chicken with a citrus and herb marinade or a spicy Asian barbecue sauce. Cava's versatility and food friendly nature lends itself perfectly to pairing with your experimentations. Keep the party casual and convenient by placing Freixenet minis in small galvanized buckets down the length of your picnic table so guests can grab them at will.
Breezy Beach Bash
When planning a beach party, everything must be fresh, delicious and portable. To simplify the experience, pre-portion single servings into Chinese takeout boxes, which are readily available in different colors and patterns that can create a fun theme. Shades of blue are always nice with the ocean as your backdrop! Fill the boxes with a hearty pasta salad filled with chunks of chicken and fresh summer vegetables like corn and tomatoes and be sure to tie disposable utensils directly onto the box. Once your umbrellas are up and your towels are down, set out the takeout boxes and a bucket of iced Freixenet minis for all to reach.
Best known as the "Black Bottle Bubbly," Freixenet Cordon Negro Brut in a chic mini black bottle (SRP $3, or $9 for a pack of three) with easy screw-off top is the perfect single-serving size.  Entertaining becomes a snap when stylish buckets piled high with chilled minis are strategically placed allowing guests to serve themselves!  Plus, cava, as sparkling wine from Spain is called, is one of the most versatile wines around, nimbly pairing with all of summer's greatest hits like fried chicken, spicy grilling rubs, lemony pastas, bright summer salads, and fresh fish. No glassware is needed, so clean up is a breeze.  Here are some summer entertaining ideas made simpler when you serve a bucket of bubbles!