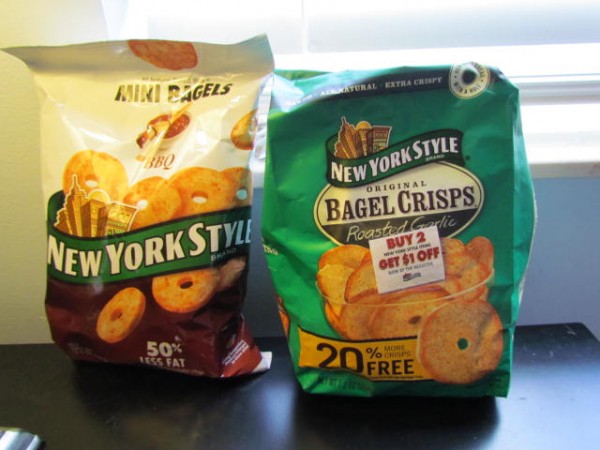 Want to know my favorite breakfast? A plain bagel (toasted), with a smear of chive cream cheese piled high with Nova lox (you can take the girl out of NY, but you can't take the NY out of the girl). The question is…Why do I have to wait until morning to have my bagel & cream cheese when I can just grab a bag of New York Style Bagel Crisps and enjoy myself ANY time of day.
Of course they're probably BEST (at least in my opinion) when spread with a little chevre cheese, some lox and a sprig of dill on top – at least that's how I do it when I've got guests at the mansion. They're great to keep on hand for those times when friends just DROP IN. I find that I can always whip up an easy dip, or even put out hummus, guacamole, or salsa out along with a bag of New York Style Bagel Crisps and they're just a little different than the usual "chip."
Still – I want mine with a smear of cream cheese…it's one of those simple pleasures.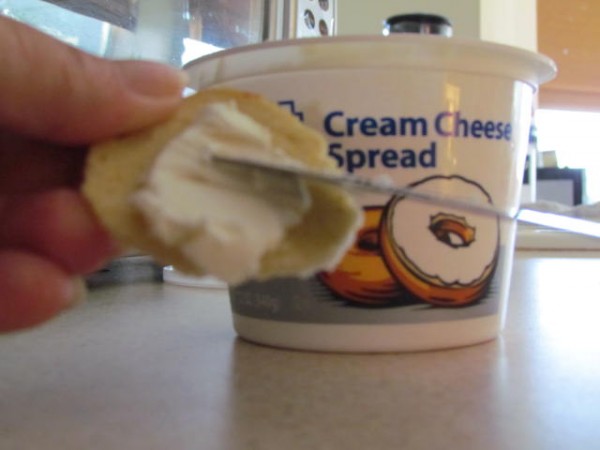 Then again, I'm known to enjoy them STRAIGHT out of the bag…

Oh and did I mention the SWEEPSTAKES that they're running? I might have forgotten as I was finishing the bag off. Now through September 2, the BagelSnack Star Sweepstakes is giving fans like you and I, a chance to win a red carpet movie experience with your friends and family! The winner will have the chance to win a private VIP photographed and catered experience at their local movie theater. New York Style will rent out the theater for you to host the ultimate experience with 50 friends. The winner will also receive a gift card for a year supply ($500 worth) of movie tickets. What a Champagne Living extravaganza THAT would be!
To learn more about the sweepstakes check out the New York Style Facebook Page. You can also follow them on Twitter to keep up with everything New York Style!
I wrote this review while participating in a campaign by Mom Central Consulting on behalf of New York Style and received a product sample to facilitate my review and a promotional item to thank me for participating.