Well, I won't so much be HAVING an affair, as attending one. Tomorrow evening I'll be the guest of the clothing catalog Boston Proper who will be hosting The PROPER affair Ultimate Fashion Experience and dinner at the beautiful Boca Raton Resort .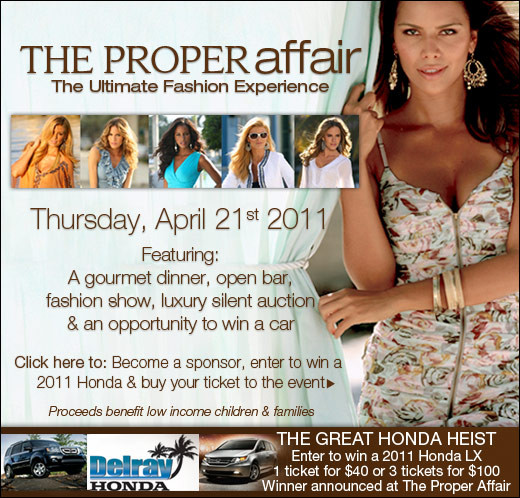 The event brings guests together to bid on distinctive Boston Proper fashion showcased in a runway show. Naked Hair will be styling the models as they presenting complete looks and the hottest trends. I've heard that we'll also have the opportunity to bid for fabulous silent auction prizes and a chance to win a new 2011 Honda.
Tickets are still available and can be purchased online. Proceeds will benefit the Achievement Centers for Children & Families – a nonprofit organization that helps low-income children and families. Together they host a one-of-a-kind shopping experience that makes a difference in the community.
If you'd like to purchase a tickets for the car raffle, they can be purchased online or at The Proper Affair. To purchase raffle tickets for The Great Honda Heist visit http://www.thegreathondaheist.com
Keep an eye here as I bring you the highlights from this FABULOUS fashion experience! If you'd like to shop for some of the fashions that I'll be seeing, simply go to Boston Proper