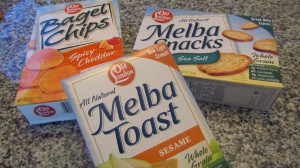 As I continue my "healthier me" journey I've had to find substitutes for the sensations that I tend to crave. While I don't really watch my salt intake (I have very low blood pressure), I only like it on certain things….like..CHIPS. So, what does one do when they are craving a salty, crispy food and their watching what they eat?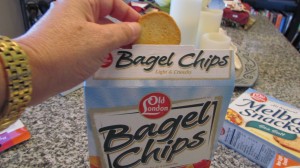 This week, I've been snacking on Old London Bagel Chips. Old London sent me a few boxes of their products to try including
Now, Old London wanted me to tell you all about the fabulous recipes and toppings that I use on their products. First, let me say that I've been eating Old London Melba Toast since I was a kid and my mom would top them with cottage cheese and give them to us as an after school snack. I could tell you how I love the Melba Snacks with a "smear" of cream cheese and some nova lox (smoked salmon) on them. But this week, I've been enjoying the Spicy Cheddar Bagel Chips RIGHT OUT OF THE BOX. I'm craving flavor and crunch and these provide me with the satisfaction of both and STILL keep me going on my weight loss program.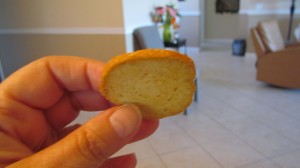 At only 60 calories a serving, it's a perfect pick me up mid-day. Oh, and when Old London says "per serving" they're not just 2 or 3 little pieces. NOPE, I get to have 9 of these big, crunchy, spicy, cheesy, snacks per serving.
Of course, I still enjoy my Old London Melba Snacks and Melba Toast, but I can't seem to stop enjoying the Spicy Cheddar Bagel Chips, and I'm going to KEEP on enjoying them since they've got no trans fat (they're baked) and all natural ingredients.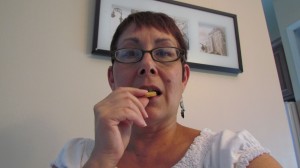 You're going to LOVE this part ! Old London wants to send one lucky winner and a guest on a once-in-a-lifetime vacation to Oahu, Hawaii. While soaking up the beautiful Hawaiian sunshine, experience everything this tropical paradise has to offer with surfing lessons, dinner for two at Tropics Bar & Grill, spa services at the Hawaiian Lomilomi Massage at Mandara Spa, private cooking lessons at the Chef Mavro restaurant and Two Alii Luau packages at the Polynesian Cultural Center with admission to "PCC, Alii Luau and Ha: Breath of Life" evening show. The four-day, three-night, all-expenses-paid experience also includes air travel and accommodations at the Hilton Hawaiian Village Beach Resort & Spa. Enter at Aloha Old London Sweepstakes
Want some great recipes using Old London products? Just visit http://www.toastforeeverydayhealth.com/food for some new recipes and ideas for serving.
I wrote this review while participating in a blog tour by Mom Central Consulting on behalf of Old London and received product samples and a gift certificate to thank me for taking the time to participate