This post has been sponsored by Petcurean. All opinions are my own and my four-legged best friend Clem.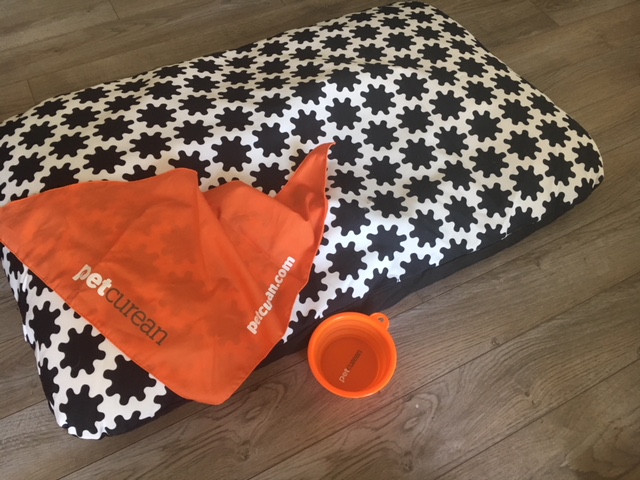 I have an IKEA obsession.
Then again, most people who wander in end up as fans. My home bar is from IKEA, my office furniture and office sofa came from there, and now – CLEM has even has a new IKEA bed.
What? You haven't heard about IKEA's  adorable new pet line?
YES! I was just as excited to hear about it as you are. Now, when I fill my cart with goodies for the house, I can pick up great beds, leashes, toys and more for the one family member who had felt left out when I came home with a trunk full.
As IKEA accurately points out, cats and dogs aren't just pets, they're members of your family—and shouldn't you be able to enjoy your home together?
Imagine your dog or cat sleeping like Clem does on his cheerful Lurvig cushion . Of course it's priced IKEA-style at only $19.99. While I was there I found bowls, beds, even a pull-out sleep sofa for your dog or cat. There is even a line of reflective collars, harnesses and leads (just note that they are for smaller dogs and none would have fit Clem's fat neck).
Redecorate your pets space or give them a fashion forward look
Why shouldn't your pet have the same design sense as you…or at least LOOK as if they do? Now they can with the new Lurvig line from IKEA.
Petcurean and Champagne Living are making it happen
We're giving away a $50 Ikea Gift Card to outfit your pooch or kitty in IKEA style, as well as 3 months worth of Clem's favorite food – Petcurean.
Enter Here
Giveaway
$50 Ikea Gift Card
3 -month supply of Petcurean kibble

Dogs 3 – 25lb bags or
Cats 3 – 16lb bags

a Rafflecopter giveaway