This post is sponsored as part of a partnership between Champagne Living and ChromaDex. All opinions are my own.
Last week I walked into my acupuncturists office. I had on sunglasses, and underneath my eyes were red from crying. I was tired from not having slept for two nights in a row, in pain, stressed out, and depressed. Oh, and I had started a new diet. The perfect storm created a new low. This was NOT Champagne Living.
How did I let it go this far?
I took on more than I could handle. The word "NO" is not a regular part of the vocabulary of a woman who likes to take life by the horns and go for all her dreams. That led to more work than I can handle, a stress level that has been affecting all aspects of my life, and a miserable person to be around.
It took a week of feeling sorry for myself
And I went into action.
I cancelled all press trips except for one
I was already on this new diet, but I am now used to it (and less rigid)
I made a to-do list of things that I've been putting off in LIFE
I began taking TruNiagen
I decided that rather than working 6-7 days a week, that I'd only work 4 or 5
I'm sure that you're scratching your head thinking….what the heck is TruNiagen and why was she working all week?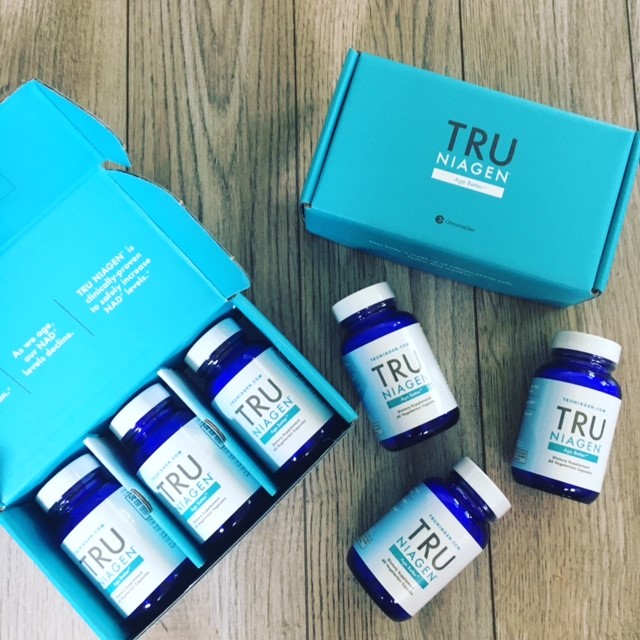 TruNiagen by ChromaDex
I know that most of what I've been dealing with are stress induced and while I can lower my stress level by taking some of the work off my plate, I'm just the kind of person who gets overwhelmed easily. So, I'll ALWAYS live with a certain amount of stress in my life. I recently learned that when you're stressed it can lower your levels of NAD+, a critical co-enzyme in maintaining the health of your cells. NAD is CRUCIAL to healthy cell function.  Apparently, things like AGING, sun exposure, over eating and drinking alcohol and jetting between time zones (sound familiar?) ALL take their toll on your cellular health.
The science
It all started with Dr. Charles Brenner, who discovered that a natural nutrient called Nicotinamide Riboside (NR), (found in small amounts in milk) is used by your body to create this important co-enzyme. NAD+ is required for things like breaking down food and generating cellular energy. It is a crucial chemical in cellular metabolism, giving your cells the ability to work.
ChromaDex created TruNiagen™ and found that even a single dose of their product produces clinically significant increases in NAD+ levels, supporting your desire to AGE BETTER. As you can read, I NEED to age better…a LOT better.
I began taking TruNiagen a day ago and am planning on keeping a journal to document any subtle or significant changes in my overall health. I'll be updating you with what I learn from my OWN system.
My hope is that it helps me
Sleep better
Have more energy
Just feel better (even if I AM under stress)

For more details about TruNiagen or to start taking it along with me visit: TruNiagen