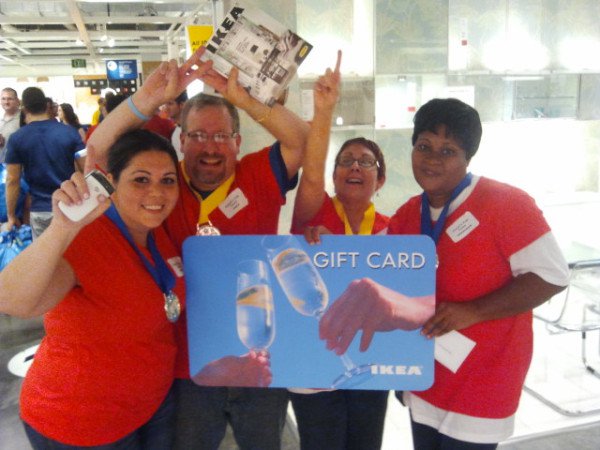 I'm speechless. As you well know this doesn't happen to me very often. Last night in Sunrise, FL I was a member of Jewel's Fab Team at Ikea's Capture the Catalog Challenge.  A combination scavenger hunt – social media event we were one of ten teams (including teams from the Miami Dolphins and the Miami Herald) to race through this massive store participating in challenges from cryptic messages, tweeting and having the time of our lives.
From the amazing Swedish buffet that included everything from Swedish meatballs to caviar for dinner, to the anticipation of learning that we won…Ikea and ExposedPR put together a MAGICAL event.
All ten teams were IN IT TO WIN IT. From
Having to put sheets, duvet & cover, etc. on a bed
Eating 20 Swedish Meatballs
Finding a pink & blue pillow in the pillow department
Put together the most FRUSTRATING light fixture
and six more challenges
We competed to complete all of the challenges within the 1 ½  hour allotted PLUS gain the most impressions on twitter. While a few of the challenges were fairly easy, maneuvering through the football field size of a store (both floors) and figuring out what the clues meant were not as easy as I thought it would be. Of course some of the challenges were downright frustrating (and I had heartburn from eating so many Swedish meatballs).
The scene was C-R-A-Z-Y! My team members Toby Srebnik – directer of social media at OGPR, Shirley Waknin of Pure Entertainment and lead by the woman who put our team together, Jewel Figueras of Jewels Fab Life all worked together well.  We tweeted, ran, built, ate, planked and tweeted some more.
The final number of impressions for this event were over 8 MILLION of which 5 MILLION belonged to our team. Not only that...but YOU helped me get the MVP award for MOST IMPRESSIONS by a single person. All of your tweeting and retweeting is what really helped us and we couldn't have done it without you.
Thank you to Exposed PR for putting this together, C&I for making us look good, Ikea for supporting and hosting this amazing event and YOU for supporting Champagne Living and helping us win $5,000 in Ikea gift cards (split between the team). All of the items that we gathered during the challenge were given to our cheerleaders at the event who helped us tweet throughout the night.
I received a prize for winning this event. All opinions are my own….now where is the heating pad?