Dear Friends (readers, family),
It's not often that I ask for help. I tend to be a bit stubborn and think that I can do everything myself. It's just the way that I'm wired. Tonight however I am being challenged and desperately need your help.
Tonight I am participating in the Ikea Capture the Catalog Challenge. That's right IKEA!!!! I'm so excited. As a matt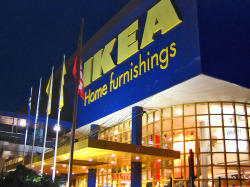 er of fact, I'm like a giggling 15 year old girl who just got asked to her first dance. I LOVE Ikea. There will be 10 teams of four racing through Ikea of Sunrise, FL from 10:00 pm on (so much for my beauty sleep), and lots of influencers in South Florida media and social media will be participating.
We'll be racing through that HUGE MEGA STORE facing all sorts of scavenger hunt challenges that will include assembling furnishings, finding items from the catalog, checking in at stations around the store  and of course TWEETING! The Grand Prize is a $5,000 Ikea Home Office Makeover and design services by the furnishing consultants at Ikea of Sunrise.
What do I need from you?
Starting at around 10:00 pm EST (7:00 PT), they'll give each team a unique hashtag. I'd love to see some Champagne Living support by tweeting and retweeting using our hashtag. Your tweets will help our team win (they're measuring our reach as part of this challenge).
Please be sure that you're following me at: zipporahs
To see more of our team, hop over to Jewels Fab Life. Jewel is our team leader and one of my BESTIES (so, you should be following her anyway)!!
Thanks for your support. Can't wait 'til tonight.
Sincerely,
Zippy
P.S. This is going to be a FIRST. The diva of the mansion is going to be wearing jeans & a t-shirt out in public at an event. It's appropriate for putting together furniture and frankly…I don't CARE, I want to WIN!