he items in this post were sent to us by the brand. We do not charge them for consideration or placement as we prefer to retain the right to not place an item that we don't truly love. We may receive a commission when you purchase via our links.
Champagne Living. That is how I aspire to live each day, and while living your best life doesn't mean that you have to be young with a perfect-body, and a voice like Jennifer Lopez. I can attest to the fact that Champagne Living is attainable for everyone, regardless of age, background, or any other roadblocks that you THINK you have. But, this week I wanted to pretend, if just for a moment that I was clinking glasses with JLo herself. So, I got all dressed, turned OFF that trashy TV show that I was watching (don't worry, I paused it so I wouldn't miss a beat) and poured myself a glass of Jennifer's (we're on a first name basis now…LOL) new line of ready-to-enjoy cocktails called Delola.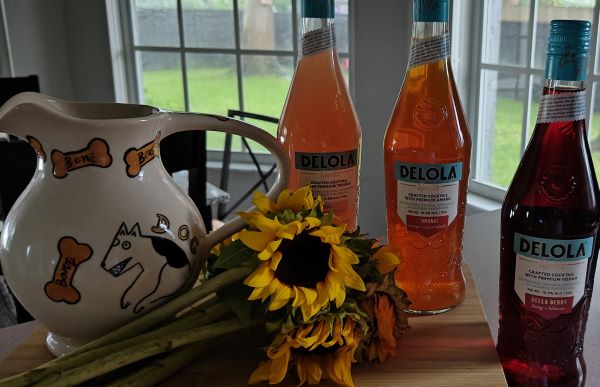 Delola comes in three different expressions: Paloma Rosa, Bella Berry, and L'Orange. Each one is made with premium spirits, including Tequila in Paloma Rosa, vodka in Bella Berry, and amaro in L'Orange. These premium ingredients give Delola its unparalleled taste, which can transport you to the beautiful Italian Coast with just one spritz. Oooh, ITALY! Let's get this thing going (off to boil some water for pasta and open a jar of Rao's sauce – no judgment, this was a last-minute decision).
Pasta made, and a glass of Delola Bella Berry poured (it's a deep color, so I figured it would pair well with pasta) and I was ready to sashay through my living room like a star (better not trip over the dog).
Let's get serious here for a second and talk about why should you incorporate Delola into your life. For starters, Delola is designed for elegant yet easy entertaining. Its effortless preparation makes it the perfect cocktail for hosting friends and family, lounging by the pool, or indulging in some self-pampering. With a simple crack of the bottle, pouring over ice, and a touch of complementary garnish. It's a beautiful way to make any day special.
Did I mention that each bottle of Delola is lower in alcohol and calories, making it a guilt-free indulgence for anyone who wants to enjoy a delicious cocktail without compromising their lifestyle? That's right, and since Delola is available in three different expressions, they offer a range of choices for every occasion and preference.
In creating Delola, JLo has partnered with award-winning mixologist Lynnette Marrero, whose expertise guarantees that each spritz of Delola has the perfect balance of flavors and tastes. Her touch ensures that each bottle of Delola is thoughtfully crafted to provide not just an amazing taste but also a thoughtful lifestyle experience.
But the most important part is that Delola is the perfect drink to help you immerse yourself in the fresh and delicious flavors you crave. It is designed to be enjoyed on many different occasions, and with its unique range of expressions, you can experiment and play with different flavors, garnishes, and more. Whether you are hosting a dinner party, unwinding after a long day, or indulging in some self-care, Delola is the perfect companion to help you live your best life.
Remember, living your best life is about finding the right balance in everything you do. Delola embodies that philosophy perfectly. It offers a delicious, guilt-free indulgence that can elevate any occasion and help you experience the best of life. So don't hesitate to try Delola today and start living your best life, JLo-style.
Learn more (including where you can buy it for yourself) at DelolaLife.com