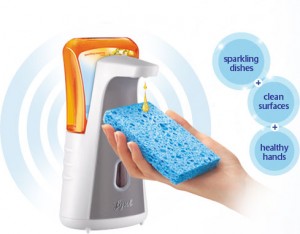 As we move into the month of March, I'm beginning to concentrate more on the mansion. While I still love going out and traveling, it seemed like the perfect time of year to give the house a good cleaning, re-decorate a bit and find things to make the home-front run a little smoother.
My first find for the month is the Lysol No Touch Kitchen System. This hands free dispenser doles out the perfect amount of dish detergent onto my sponge each time I simply pass the sponge underneath it. My dishes have been sparkling clean, it cuts through grease well and is an anti-bacterial soap….keeping the germs at bay. I've used it for everything from my dishes to the counter top, and just to clean my hands.
The Lysol No-Touch Kitchen System comes in various scents
Sparkling Tangerine
Shimmering Berry
Sunkissed Lemon
I have to say, that after putting this fun battery operated dispenser in the kitchen, that I went out and bought the Lysol no touch hand soap system for the bathroom as well.
I received product to review. I liked the product so much that I went out and purchased more. All opinions are strictly my own.