Post sponsored by Wedding Paper Divas. It was our first choice in WHERE to get our wedding paper goods, and we're so happy that they came on-board to support us with this project. All opinions are strictly those of Champagne Living and staff.
Thank you notes have become something of a lost art. Not that long ago, you wrote thank you notes for just about anything; it was simply what was expected in polite society. Now, we only tend to write them for special occasions where a simple text will not do. One of those occasions? Your wedding.
So if your big day is coming up and you are starting to panic about writing those notes, it is understandable; chances are you don't have too much practice.
To help, read our guide on how to write a thank you note below.
Start with a Greeting
For the most part, a thank you note is not all that different from other forms of written correspondence. Even if everything has been email for you for some time, think back to lessons from elementary school on letter writing. Start with a kind greeting, such as "dear," and be sure to use the correct form and spelling of the recipient's name.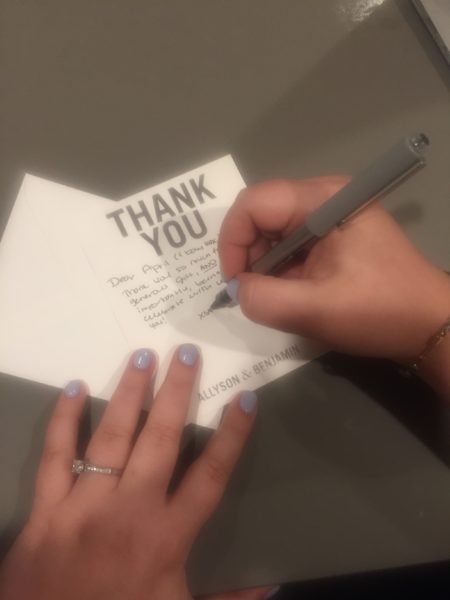 Say Thank You
It sounds obvious, but it is tempting to dive right into explaining how thankful you are. Before you get into the note, start with those two, simple words: Thank you.
Get into the Details
But don't ramble. If they gave you a picture frame, you can tell them it is now displayed and what picture you put in it. If they gave you some plates, let them know that you have already served some of your first meals as a married couple on them. Just don't go on and on about the story behind the picture or the recipes you used.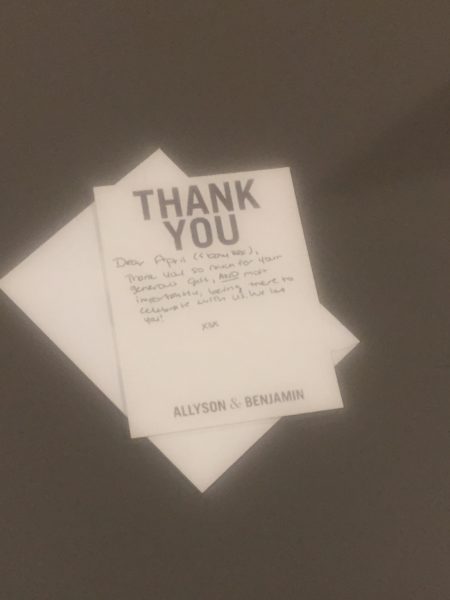 Say Thank You Again
As you wrap things up, let them know once more how much you appreciate the gift and their thoughtfulness. Then, say thank you once more, and end the letter with your regards.
We got our Thank You cards (see the ones above where we're writing) at Wedding Paper Divas. We loved the selection and decided that we wanted a card that we could order again and again for general thank-you cards as well.


You can order everything from Save the Date through invitations, thank you cards and all sorts of wedding. stationery at Wedding Paper Divas. We love their selection and ordered all of our wedding stationary and even the bridal shower paper goods from them.