Note: I was a guest of Walt Disney Pictures for this junket. All opinions are strictly my own.
Being the only woman in a household isn't always easy, but I imagined that Kaya being Carina on the set of Pirates of the Caribbean: Dead Men Tell No Tales was 10, no 100 times worse. I have a hubby and a dog, she had an entire cast of men.
We had to ask: You've experienced a male dominated cast especially how was it in this one, you're basically the only female. 
Kaya: Yeah I mean I've been incredibly, I shouldn't say lucky because it should be like that- but the guys never made me feel like the only woman, they always treat me exactly the same.  I've never felt like I'll walk on the set and they're like the girl is here, we have to stop farting. They continue to do that anyway. I've grown up with guys, I love them. My best friends are guys and I like that energy.  I think that once they get over you being a woman, it can actually be kind of bonding and nice,  and yeah it was interesting.  The last two movies have been very male dominated.
Which led us into asking about being a strong female in this film
Kaya: Carina comes in as a brand new character in this movie for the franchise and she's a really strong feminine character, which was actually really refreshing to see.  She can hold her own. 
But, what was it like bringing that into a completely male dominated storyline?
Kaya: It's always important for me.  Every role I look for a woman that I would have liked to have seen at thirteen on the big screen. It's a huge responsibility, because people forget in blockbusters that we're not simple, there are multi layers and there's a lot going on and she has a lot of that. She's an orphan, she's a survivor.  She's also stubborn and argumentative, but she's also funny and flirty and there's so much to her.  I'm grateful that they wrote her this way.
I made a real effort with her to try and hit all those beats, it's something that I hope my son grows up watching and respect in women, that we aren't just the Disney princess, or the love interest, or the damsel in distress, and she's certainly not any of those things.
We were curious – What do you want the takeaway to be from the film? 
Kaya:  I hope that they understand that this is an adventure for the whole family and it's something that should be seen on the big screen and it's got the best technology possible.  We spent six months making this and two years in post production for a reason.  That's how it should be seen, and that's how the whole family will enjoy it at its best.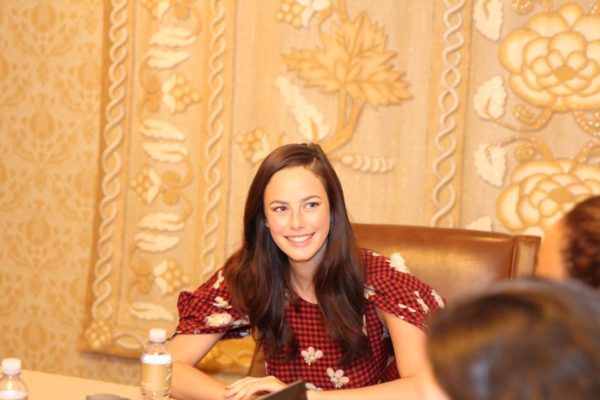 Because I loved the new "Pirates" so much, I had to ask…If there were more movies in this franchise, what would you like to see for your character?
Kaya: I would really like to see her exploring her love of the stars and astronomy, and going out to the ocean.  Also this new identity that she has. She's the daughter of a infamous pirate, and I think that's it'll be cool to see whether she takes that on or not.
Pirates of the Caribbean: Dead Men Tell No Takes is in theaters now! Bring the family for a swashbuckling great film.