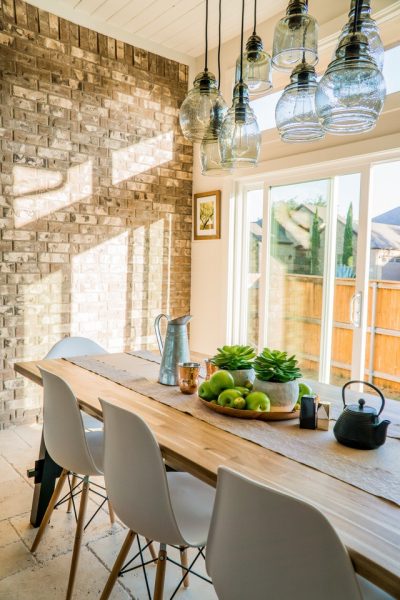 There's no better time of year than when the warmth starts to creep in, flowers start to bloom and you can finally get started on your spring cleaning. Right?
Refreshing your home for the warmer months is an amazing opportunity to start with a clean slate, get rid of things you no longer need, clean out the dust that's been gathering during your hibernation and make room for all of the newness. If you're champing at the bit to say goodbye to winter and get your space ready for spring, here are some ways to get started.
Do a Deep Cleaning Session
Of course, the first and most important thing we need to do around this time of year for a refresh is to get down and dirty to spring clean our homes. This isn't just your regular sweeping and dusting session.
This is the perfect time of year to get to all those tasks that don't need to be done too often, but by the time spring rolls around, they really need to be done. Think of things like flipping and cleaning your mattress, dusting the ceiling fan, vacuuming the sofa, cleaning out your pantry and moving all the furniture so you can scrub all those hard-to-reach places.
Freshen the Air
There's nothing that feels quite as fresh as, well… fresh air. Now that all the dusting has been done (thoroughly), take this time to really focus on airing out your home. Giving your sofa, carpets and other furniture pieces a thorough clean can do wonders for how your home smells too.
Invest in a portable UV air purifier to keep your home smelling fresh and protect your lungs, start leaving the windows open more often, bring in some air-purifying plants, and perhaps place some scented candles, incense sticks or other fresh scents around your home.
Change Up the Colour Scheme
A change is as good as a holiday, and a great interior design trick is to change up the accent colors in your home to be more seasonal. In the wintertime, favor warmer colors that make you feel cozy, like deep reds and burnt oranges
In the spring, freshen up your home and liven things up a bit with lighter and brighter colors. Shades of green are perfect for spring, but yellows and light pinks are some other great ideas if you're looking to bring some brightness into your space. You can simply look online for inspiration for some fun spring colour schemes.
Do Some Decluttering
Your usual spring cleaning routine is also a great opportunity to declutter some areas in your home. After everything has been cleaned until it's spotless, you might want to spend some time going through your closet, pantry, bookcase, junk drawers, garage, etc. to figure out what really needs to be there and what doesn't.
A more minimalist space is an easy road to a clutter-free space and a clearer mind. This makes decluttering a great way to refresh your mindset for the new season too
Bring the Outdoors In
Learn how to become a master of houseplants during the warmer months. Houseplants are a great addition to your home for so many reasons. As mentioned, they can help clean the air you breathe, but more than that, they bring life and a real spring feeling into your home.
Nature also plays a major role in managing anxiety, so filling your home with greenery could help you manage stress. As well as bringing in these natural elements, you might also want to let in more natural light to make the space feel more positive and bright. You can learn more about the different blinds available if you want to make a change and in more light.
Buy Some New Spring Décor
There's no better excuse to buy some fun new home décor than a change of season. You'll be freshening things up quite literally by changing the scene and bringing something new to your home.
Look for art and décor that really brings you the spring and summer feeling you're looking for, and that will inspire you and make you feel happy and calm in your home. Plants, flowers, coastal pieces, and light and bright colors are the way to go.
Try Some Spring Recipes
The kitchen is part of the home and a pretty important one at that! Make your recipe regime part of your spring refresher by challenging yourself to try some new recipes in the new season.
The onset of the warmer months is the perfect time to commit to a healthier diet since it becomes more and more enticing to make light, fresh and healthy meals like salads and fresh fruity snacks. Bring greenery to your plate too and try to make some new delicious meals for dinner this season.