Planning a marriage proposal is probably one of the most exciting and nerve-wracking experiences you'll have. It's not as simple as asking your partner out on a date. Instead, you're about to ask them to be a huge part of your life for a lifetime. And naturally, you want to ensure everything goes perfectly, as this moment will be something that you and your partner will remember for life.
But for your wedding proposal to be successful, there are several things you'll need to carefully consider, mainly your partner's preferences. And so this article will provide some tips, steps, and proposal ideas for planning the perfect marriage proposal.
Whether you're looking for a more intimate moment or a grand gesture, this article's got you covered. So, take a deep breath and begin planning a proposal that'll surely guarantee you a big yes from your beloved partner.

Pick The Best Engagement Ring For Your Partner
Sure, the engagement ring may be the center of attraction for most wedding proposals. Friends and family will often flock to get a glimpse of it. But if there's one person you need to impress with the engagement ring, it's your partner. Thus, you'll want to find a style and setting that fits your partner's taste.
Some people want a striking, eye-catching engagement ring, while others prefer a simple and minimalistic one. To get a clearer and more accurate idea of what your partner wants, go through their jewelry box or ring box and find out what type of rings they're into. For example, if your partner is into square or rectangular jewelry or has square diamond stud earrings, an engagement ring with princess cut lab grown diamond may be the best choice for them. Or, if your partner is a minimalist, a medium lonely diamond engagement ring may be more to their liking.
Besides the design, ensure you get the correct ring size so your partner can wear it comfortably and securely after they've said yes to your proposal. To get their exact ring finger size, you may secretly borrow one of their rings from their jewelry box as a sample or get the help of their close friends or family.
Select The Most Suitable Location For The Type Of Wedding Proposal
Now that you've got the ring, it's time to select the location for your wedding proposal. Selecting a meaningful place can add more significance and romance to the experience. But remember, your choice of location can also make or break the proposal event.
For example, choosing the most public location to propose may not be the best idea if your partner's not into public stunts or anything that attracts attention. And as much as they love you, it might ruin your chances of getting their 'yes' simply because you picked the wrong location.
So, consider your partner's interests or preferences and look for locations that align with them. Does your partner love the green outdoors? A wedding proposal in a garden or a mountain may be the best choice. Is your partner a history buff? A marriage proposal set at a museum or any historic site may weaken their knees.
You may also consider places with special meaning for you and your partner. It could be the site of your first date, a favorite vacation spot, or a place where you both shared a significant moment.
Decide Who You Want To Invite
Proposals are often intimate and personal, and having too many people around can detract from the moment. It's important to consider whether you want the proposal to be a private moment between you and your partner or if you want to include close friends and family members.
Having close friends or family members can provide emotional support and make the moment even more special. Moreover, doing so would be ideal if your partner values close relationships. On the one hand, if your partner is private and values intimate moments, it may be best to keep the proposal between you two.
Ultimately, the decision of who to invite shall be based on what you know about your partner and what you think they would appreciate.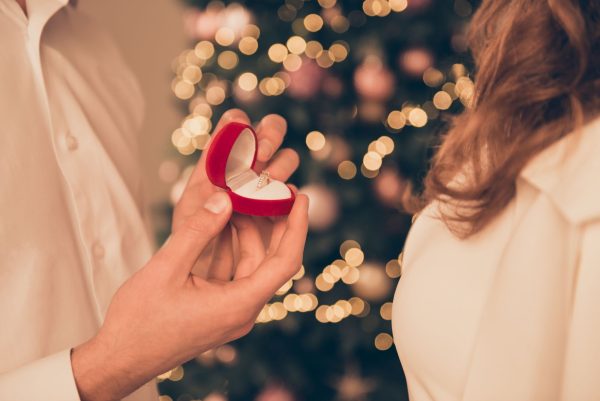 Compose The Things You'd Like To Say
Beyond the engagement ring, the location, and the people around, another important thing that'll impact your partner's feelings is your speech during the wedding proposal. Considering that it's nerve-wracking, it's easy to get lost in words at the moment, potentially ruining the whole ordeal.
So, ensure you prepare everything you'd like to say in advance to make the proposal go more smoothly. Clearly express your feelings and intentions and include personal anecdotes or details about your relationship that can make the proposal more special and memorable for your partner.
Wrapping Up 
Overall, planning a wedding proposal can be initially overwhelming. With these tips, you can create a meaningful and unforgettable marriage proposal that reflects your love and commitment to your partner. So, good luck, and congratulations on taking this next step in your relationship!