When you embark on a journey, whether for business or pleasure, your top priorities are comfort, safety, and peace of mind. The cleanliness of the spaces you encounter along the way is a crucial factor contributing to your well-being and satisfaction.
Maintaining high hygiene standards in hotels, airports, and other travel-related places is a pivotal role fulfilled by commercial cleaning services.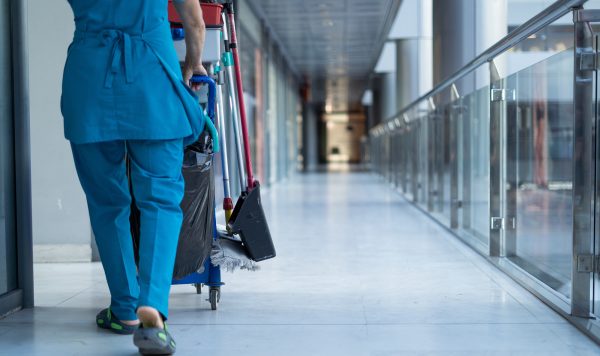 This article will delve into how professional cleaning services, such as sanitizing services, go above and beyond to protect travelers' health and well-being. 
Promoting A Germ-free Environment
Commercial cleaning is crucial in promoting a germ-free environment, particularly in the context of ongoing concerns about contagious diseases like COVID-19. Professional cleaners utilize cutting-edge disinfection techniques and premium-grade products to thoroughly sanitize surfaces and mitigate health risks. These robust cleaning protocols give travelers the confidence to enjoy their journey without fear of infection. 
Alongside sanitizing measures, effective waste management is critical. Travel-related establishments generate a large amount of waste, which, if not correctly handled, can become a breeding ground for harmful microorganisms.  
Commercial cleaning services implement waste management protocols that adhere to sanitation guidelines and regulations, ensuring regular collection, segregation, and safe disposal of waste. These practices contribute to maintaining a clean environment, minimizing the spread of infections, and safeguarding the well-being of both guests and staff.
Ventilation systems in hotels, airplanes, and other travel-related establishments are prone to accumulating dust, allergens, and various microorganisms, which can significantly degrade air quality if not regularly cleaned and maintained.
These contaminants not only compromise the air quality but can also trigger respiratory issues or allergies among travelers. Commercial cleaning service providers actively take the appropriate steps to safeguard travelers' health from these harmful substances. They perform thorough inspections of ventilation systems, including air ducts and filters. This diligent approach guarantees that the air quality remains at its highest level.
By ensuring clean and fresh air, commercial cleaning companies help travelers breathe easily during their journeys, minimizing the risk of respiratory discomfort and maximizing their overall well-being.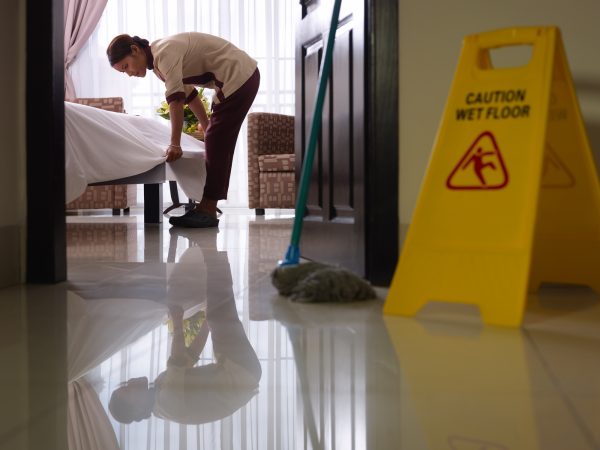 Minimizing Slip And Fall Hazards
Safety takes precedence above all else in the travel industry. And it's not only safety from germs, contaminants, and other harmful substances but also from accidents, like slips and falls. These types of accidents are a significant concern, posing risks to travelers and potentially disrupting their plans. Commercial cleaning services address this issue through proactive measures to maintain clean and safe flooring surfaces. 
Professional cleaners eliminate hazards such as spills, debris, and slippery substances with regular sweeping, mopping, and thorough cleaning. Doing so, they help prevent accidents and injuries, ensuring that travelers can navigate the premises confidently. These meticulous cleaning efforts contribute to a safer environment for all. 
Enhancing Overall Experience 
Cleanliness isn't a mere luxury but a fundamental aspect that underpins every travel experience. Travelers expect and deserve a high standard of hygiene wherever they go. Travel-related establishments acknowledge this expectation by prioritizing commercial cleaning and working diligently to exceed it. 
Visitors entering a spotlessly clean hotel room or dining in a meticulously maintained restaurant enhance their overall experience. They feel welcomed, cared for, and can focus on enjoying their trip. With their attention to detail and commitment to excellence, commercial cleaning services play a vital role in shaping positive travel experiences like these. 
Boosting A Positive Image
Commercial cleaning also benefits businesses. Establishing and maintaining a positive image in the highly competitive travel industry is vital for attracting and retaining customers. Cleanliness significantly shapes travelers' perception of an establishment and can make a lasting impression. Commercial cleaning services create a positive image by ensuring impeccable cleanliness throughout travel-related spaces.
First impressions are crucial, and the cleanliness of lobbies, reception areas, and common spaces sets the tone for a traveler's experience. A clean and well-maintained environment communicates professionalism, meticulousness, and an unwavering dedication to customer satisfaction. It creates a positive perception that can influence travelers' overall discernment of the establishment.
Wrapping It Up 
Clean and well-maintained spaces have a direct impact on enhancing guests' overall experience. Customers feel valued and cared for when they encounter establishments prioritizing sanitation. This dedication to their well-being leads to positive reviews, increased customer loyalty, and, ultimately, the success of a business. 
Collaborating with commercial cleaning services is a proactive approach to delivering exceptional cleanliness and comfort. These services go beyond surface-level cleaning to ensure that every aspect meets the highest standards. By investing in these services, businesses demonstrate their commitment to public health and safety, prioritizing the well-being of their guests.