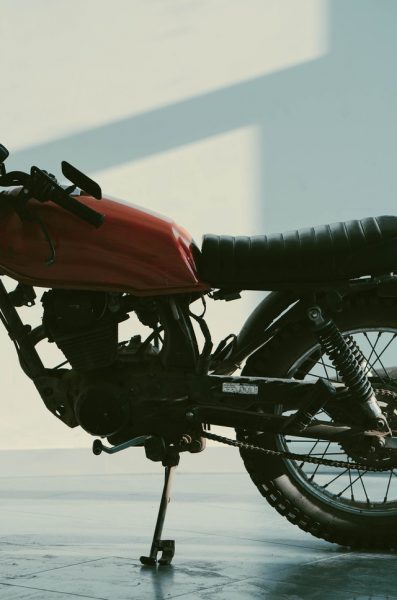 A bad day on or off the trails can transform a brand new, off-the-shelf dirt bike into a cheap garage sale motorbike. But if you spend an afternoon on renovation, you can revive an age-old bike into brand new.
Though aesthetics light up your dirt bike on the outside, they do nothing for the inside. If the engine is difficult to start or does not start, the power vanishes, you have shifting issues, or the bike does not operate as well as it used to function previously.  You need to rebuild the motor bike and it all starts with regular maintenance. Here are 10 tips to make your old motorbike new again.
 

Replace and lubricate all bearings
Bearings carry the most load, they move when the bike moves, and all the dirt and debris from the ground makes its way inside the hub. So, to improve power, steering control, and motor suspension, replace all bearings. This includes linkage bearings, swingarm bearings, steering head bearings, and wheel bearings.
 

Check  your drivetrain (chain and sprockets)
An unlubricated and worn-out chain and sprocket set won't get you very far once the engine turns over.  The chain is more likely to snap when under pressure. Replace your chain, along with your front and rear sprocket at the same time.  As the complete assembly wears together (as a thumb rule).
 

Lubricate everything
Lubrication is low-cost and simple. Even if you don't ride for a long time, keeping critical components lubricated saves you money. It keeps you from having to replace bearings, chains, and sprockets. Plus, it could solve major handling problems with your motorbike!
 

Check valves (4-stroke only)
Valves that are too loose or too tight making it difficult for the bike to start and operate. If it's been a while or you're working on a restoration job, it's usually worth it to replace the valves.
 

Replace reeds and adjust the carburetor  (2-stroke only)
Reeds and the carburetor controls the fuel-air mixture into the cylinder on 2-stroke dirt bikes. 
The reeds should be replaced and the carburetor should be adjusted so that the motor bike does not operate too rich (too much fuel) or too lean (insufficient fuel), as long as the other motorbike parts are still functional.
 

Replace complete top end
When everything else fails, re-do your dirt bike's top end. The pistons, rings, and gaskets are all replaced. Regardless of how often you ride, change the top-end of a working dirt bike every five years or so.
 

Replace clutch components
Once you start riding, you'll notice whether or not the clutch and gears are working smoothly. It's very easy to determine whether the clutch pack and pressure plates need replacement. You have to check the specs and how to assess the wear limits in the bike's owner's handbook.
 

Replace and lubricate cables
Frayed throttle and clutch cables may be able to cure many of the fuel and clutch problems. It's a lot less expensive, simpler, and time-consuming remedy than a rebuild. Excessive usage, as well as a lack of use, can cause cables to fray or stretch because lubrication of parts was not regular during storage.
 

Check on forks
The fact that vintage dirt motorcycles ride like a pile of trash is a frequent gripe. The engine may kick start and purr like a kitten, but one lap is all your body can handle. The fork grease, bushings, and seals have a huge impact on the suspension. No matter how much you tweak with the clickers, leaking forks or forks with no oil wreak havoc on the motor suspension.
 

Change the oil
If you're starting a bike for the first time in years or dealing with an older bike you ride that has lost its oomph. It's always a good idea to run new oil while you troubleshoot your way to a new dirt bike.
Conclusion
Buying the necessary parts and accessories to keep your motorbike in prime condition is easier than ever. Online stores like the MXstore, offer doorstep delivery of original, high quality bike accessories, parts, and much more. Keeping your motorbike in great condition has never been easier.