A gift basket is a great way to show your friend how much you care about them. They are perfect for special events like weddings and birthdays. You can fill them with treats, presents, or even wine. Here are a few tips to keep in mind when making your gift basket.
1. Plan First
If you know what your basket theme will be, shop early. It will reduce your stress and give you plenty of time to prepare the gift. Also, you can plan shopping trips around the deals. After the holiday items are often marked down.
When looking around, try to find items on clearance to use coupons. Plus, you can use Ebates or earn cashback through certain credit cards. Also, make a list of things you need before going to the store, so the trip goes by quicker.
2. Go For a Fun Container
Keep in mind you don't need to stick to a traditional basket; there are other options. For example, decorative bowls, colander, or pots, are fun for kitchen themes. Large glass jars work well to hold smaller items. Toy carts or wagons are perfect for children.
Vintage carts can even create a unique look. So, take time to shop or look around your home for more creative ideas. Just be sure to consider the weight and size of the container. You want it to hold and support all the items inside.
3. Start With the Base
Your items will look better if they are elevated within the basket. You can do this in various ways, such as using bubble wrap, tissue paper and crumpled newspaper. You can also buy basket filler from stores like Dollar Tree and Walmart.
They can come in different colors and are often cheaper priced. Giving the items a cushion can also keep breakable items safe. You can use smaller boxes for deeper containers to fill up the height.
4. Pick Items That Are a Variety of Size and Texture
Give your basket visual appeal, with items of all different colors, textures, and sizes. For example, you could add in candies with other colored wrappers. Try to fill as much space as possible.
You can also mix different items from food to beauty products or electronics. You can even create a theme with the items, such as a self-care basket. You can tailor it to a specific time in someone's life, such as buying their first home.
5. Consider the Arrangement
There are multiple ways to arrange your gift baskets. Consider which method is best before starting the project. For example, you can load front to back. In this setup, you build a background of larger items and the smallest ones are in the foreground.
Then use a filler to boost smaller items in the front and heighten ones in the back. Other arrangements include a center to perimeter style or "Z" formation. Whichever one you choose, consider how each item will fit.
6. Make Sure Items Are Secure
Make sure the supplies are tightly secure to prevent breakage. Use glue dots, skewers or straws to keep loose items in place. If you have fragile things like mugs, wrap these in tissue paper first. Tying items together with a ribbon can help as well.
First, line the bottom of the container with ​​a few inches of raffia. Place larger items in the back for more support. To ensure everything is staying in place, do a quick trial run. Walk around your house holding the basket.
7. Fill the Glass Jars or Mugs
Having an empty jar or mug can be less visually enticing. Fill them with treats or small trinkets. If you know your friend's favorite candy, use that as filling. Plus, it gives people more things to open. You can even just add in some store-bought filler.
Try to use colorful materials for added visual effect. If you want to be more creative, you can match them with the color scheme of the overall basket. The filling also gives the jars more depth.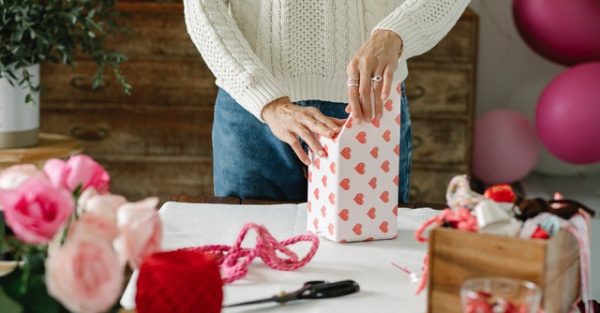 8. Keep the Wrapping Simple
You can wrap up your basket in fancy paper, but you don't have to. You simply dress it up with cellophane and a red bow. Suppose you want a rustic look; use rafia and a wood button. Tulle is another good option; it comes in various colors and is relatively affordable. Wrapping gives the basket a polished look and can keep items secured.
9. Set a Budget
It can be easy to want to splurge on your gift basket. You may go to the store and look around and end up filling your cart. So, make a list ahead of time and plan out a theme. That way, you can create and stick to a budget.
Consider which items you can splurge on. Do you want to pay more for a fancy wine or add more elaborate decorations? This can help you to create an effective budget.
10. Have Fun With Adding Items
There are lots of different items you can add to the bag. Cookies are often fun gift basket ideas. Plus, you can even make them yourself as a fun weekend activity. Consider getting the whole family involved for extra bonding time.
Here are a few more basket ideas to try:
A jar of sweet and spicy coated nuts
Flavored salt gift basket
A breakfast basket
A grilling set
Tips for Making the Perfect Gift Basket
Everyone loves to receive gifts, especially from their friends. They show your support and love. So, follow these tips to make the perfect gift basket for your best friend.